<figure class="media-landscape" has-caption full-width lead">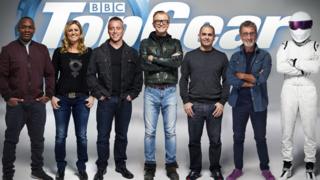 Image caption Rory Reid, Sabine Schmitz, Matt LeBlanc, Chris Evans, Chris Harris, Eddie Jordan and The Stig make up the new team
Motoring show Top Gear has returned to BBC Two with its new line-up of hosts.
The relaunch featured Chris Evans and Matt LeBlanc driving Reliant three-wheelers from London to Blackpool and actor Jesse Eisenberg and chef Gordon Ramsay tackling the Top Gear track.
The new hosts were signed up after the old team left after an infamous fracas between lead presenter Jeremy Clarkson and a producer.
Initial ratings for the episode will not be known until Monday morning.
However, Evans said earlier in the week he would be "disappointed" with anything fewer than five million viewers for the show's first episode.
<div id="bbccom_mpu_1_2_3″ class="bbccom_slot" mpu-ad" aria-hidden="true">