<figure class="media-landscape" has-caption full-width lead">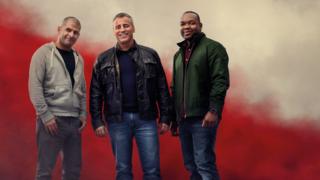 Image caption Chris Harris, Matt LeBlanc and Rory Reid are hosts of the new series
To say that Top Gear has had something of a difficult rebirth would be an understatement.
The BBC's gamble on Chris Evans as host for the first series of the show since the departure of Jeremy Clarkson, Richard Hammond and James May was always going to split opinion.
Some felt Top Gear had departed too much from its original format – others felt it hadn't departed enough. No one really expected the same on screen chemistry as Jeremy Clarkson and co, but there was no obvious alternative TV presenting blueprint for the new team to follow either.
A critical mauling and a slump in viewing figures followed – but for those that stuck with the series, there were some pleasant surprises.
'More open'
Matt LeBlanc turned out to be quite likeable. Rory Reid had gravitas and passion. Chris Harris overflowed with genuine motoring expertise. Sabine Schmitz proved it was possible to be both funny and German. Eddie Jordan was well Eddie Jordan.
<div id="bbccom_mpu_1_2_3″ class="bbccom_slot" mpu-ad" aria-hidden="true">