Musicians target trade with Rock Against the TPP tour as experts say todays artists often turn to tweets, not tunes, to make political statements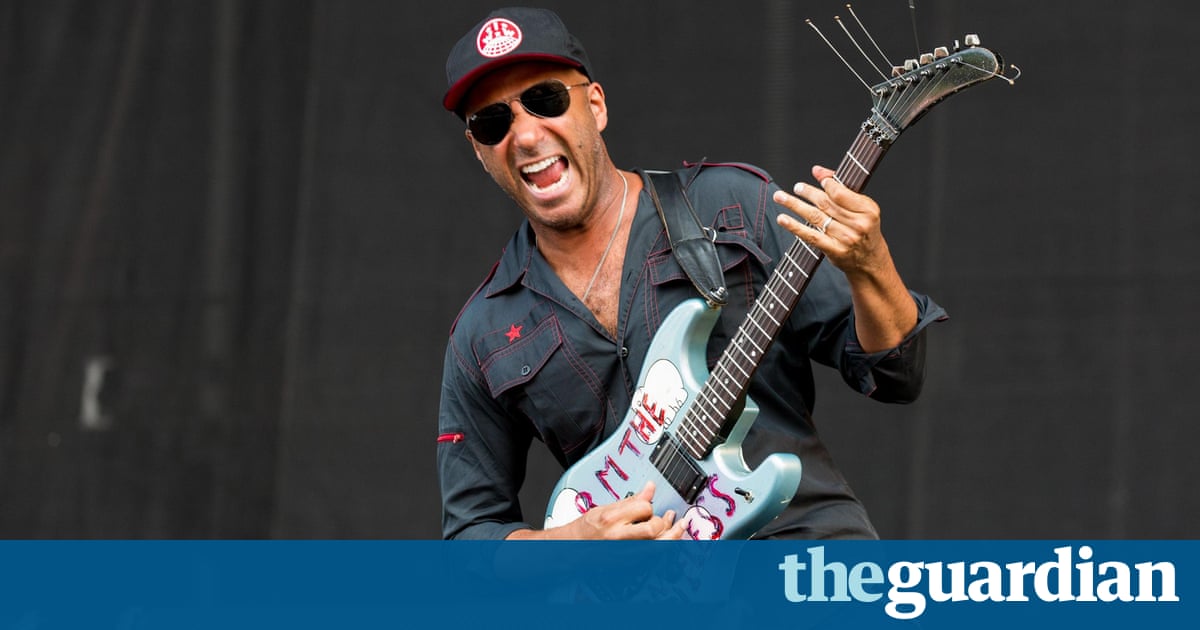 In Philadelphia last week, a parade of big name musicians performed and expressed their support for the Democratic presidential nominee, Hillary Clinton. They included Alicia Keys, Katy Perry, Paul Simon and Boyz II Men.
They offered a stark contrast to the Republican Convention in Cleveland, the week before, which ended with a group of musicians explicitly telling the GOP nominee, Donald Trump, not to use their music.
As the nation watched the conventions, however, a group of artists led by the former Rage Against the Machine guitarist Tom Morello and Talib Kweli criss-crossed the country on the Rock Against the TPP tour, seeking to bring attention to the highly controversial Trans-Pacific Partnership trade deal.
The tour was organized by advocacy groups with differing political stances, such as Fight for the Future, the Sierra Club and the Teamsters, and pushes attendees to call on their representatives to vote against the deal when it hits the House floor this fall.
Once people learn about the TPP, they generally dont like it, said Evan Greer, both a campaigner for Fight for the Future and a musician performing on the tour.
Rock Against the TPP is a rare example of mainstream artists pushing fans to take political action. There has been a steady decline in artists using their voice to call for political action outside carefully choreographed events, such as the Democratic convention.
This is a far stretch from the 1950s and 60s, when mainstream success almost required an active political stance. The likes of James Brown, Bob Dylan and Gil Scott-Heron were deeply involved in protest and used their platform to push an agenda.
Carlos Chirinos, director of New York Universitys Music and Social Change Lab, said musicians had not been very politically engaged in the 2016 election cycle. There doesnt seem to be a concerted effort these artists these days to tackle the obvious issues surrounding the election, he said.
Social justice issues have greater appeal to musicians. The magnitude and reach of the Black Lives Matter matter movement, for example, has forced usually apolitical artists such as Jay Z and Beyonc to take a stance.
Chirinos said there was a difference between artists taking positions on social justice issues and actually calling for action. Similarly, while many have blasted the Republican nominee, Donald Trump, most such words have been reactionary rather than proactive. Twitter, Chirinos said, has made it easier to for artists to voice discontent without calling for action.
Just compare a tweet, which seems to be the main way of writing for artists to raise their voices, with the full media campaign that [John] Lennon launched in 71, Chirinos said, referring to Lennon and Yoko Onos War Is Over campaign, in opposition to the Vietnam war.
The TPP, a complicated trade deal, is not the easiest topic with which to inspire political action. It is complex, and it has produced bipartisan disdain. Both Clinton and Trump have voiced opposition. Anti-TPP activists heckled Barack Obama during his speech at the Democratic convention.
Furthermore, the music industry is an ardent supporter of the deal, which contains several copyright protections. Evan Greer said these measures would in fact force other countries to adopt Americas draconian copyright laws.
Each stop on the tour includes workshops, led by the actress Evangeline Lilly, on the inner-workings of the deal – details have largely been shielded from public scrutiny and a rally before the show.
More than 1,000 attended the tours first stop in Denver last week, and a few hundred showed up in San Diego on Saturday. Performers included Anti-Flag, Flobots, Downtown Boys, Taina Asili, Lia Rose, Ryan Harvey and Son of Nun. Talib Kweli will join the tour on 19 August in Seattle.
I think part of the goal of this tour is to work with large, well-known artists who are going to help reach out to the mainstream audience, Greer said.
At the teach-in events, attendees signed postcards that will be delivered to congressmen. Greet said he was blown away by the kind of people that showed up.
I thought the teach-in would be more the activist folks, he said. It was really wide mix.
Rock the Vote and Global Citizens are the most notable political movements involving mainstream artists in recent history. Rock the Vote has enjoyed a great deal of success in encouraging young voters, although its 2014 midterms campaign faced criticism after stars featured turned out not to have voted in previous midterms themselves.
Artists are not obliged to lend their voices to political causes. <a href="http://www.dickweissman.com/index.html" data-link-name="in" body link" class="u-underline">Dick Weissman, longtime musician, ex-college professor and author Talkin Bout a Revolution: Music and Social Change in America, pointed out that to do so can often alienate fans. The Dixie Chicks, for example, called out George W Bush in a concert. Several radio stations subsequently pulled their music from playlists.
Their particular fanbase didnt think it was appropriate for them to be criticizing government figures in the United States, Weissman said.
According to Chirinos, if artists do want to enter the political sphere, movements such as Rock Against the TPP are the most effective way to do so.
Theyre not just telling you were upset about this, he said. Moving from expression to action is the critical point.
Read more: https://www.theguardian.com/us-news/2016/aug/01/musicians-election-2016-tpp-tom-morello-talib-kweli