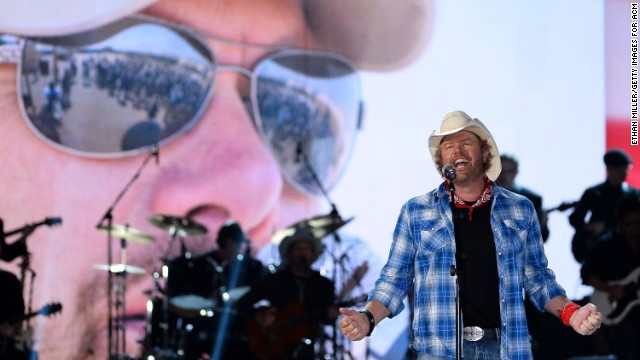 (CNN)Toby Keith, 3 Doors Down and Lee Greenwood will headline a concert for President-elect Donald Trump's inauguration, his inaugural committee announced Friday.
The concert, which takes place at the Lincoln Memorial on January 19, has been dubbed "The Make America Great Again! Welcome Celebration." Jennifer Holliday, The Piano Guys and The Frontmen of Country are among the other musicians performing. Actor Jon Voight will also be making an appearance.
<
ul class="cn" cn-list-hierarchical-xs cn–idx-4 cn-zoneadcontainer">
"President-elect Trump has made it clear that this inaugural is of, by, and for the American people. The 58th Inaugural will celebrate American history and heritage, while setting the course to a brighter and bolder future for all Americans," Tom Barrack, the chairman of the Presidential Inaugural Committee, said in a press release. "Above all, it will serve as tribute to one of our greatest attributes, the peaceful transition of partisan power."
Another event to be held the same day, called Voices of the People, will feature a number of marching bands and related troupes.
Both of these events are open to the public.
The announced lineup for the concert is a stark contrast with the star power assembled for President Barack Obama's first inauguration in 2009, when a similar concert featured appearances from Jon Bon Jovi, Bruce Springsteen, Mary J. Blige, Garth Brooks, U2, Usher, Stevie Wonder, Denzel Washignton and Tom Hanks, among others.
Read more: http://www.cnn.com/2017/01/13/entertainment/inauguration-concert-lineup-toby-keith-3-doors-down-donald-trump/index.html