Deaths of a man and two women after hip-hop and electronic dance music festival Hard Summer add to mounting concerns about drug use at raves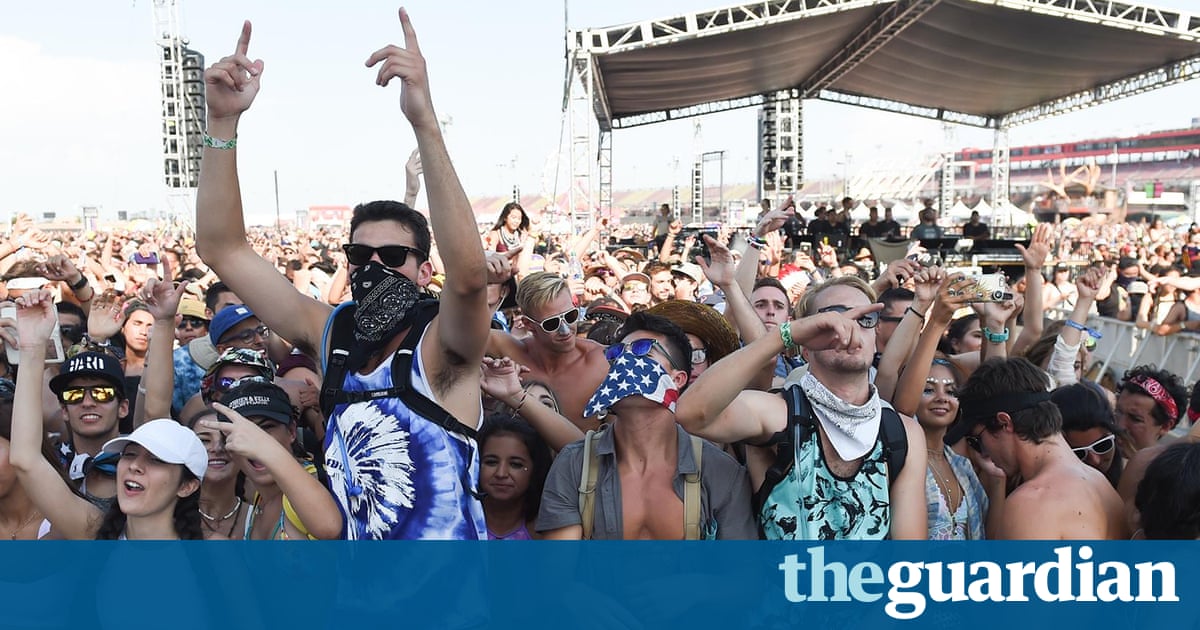 Three people died after attending a weekend rave in Fontana, California, headlined by Ice Cube, Major Lazer and dozens of other hip-hop and electronic dance music performers, officials said Monday.
The man and two women were among nine people hospitalized during the Hard Summer Music Festival, San Bernardino county sheriffs spokeswoman Jodi Miller said. More than 146,000 people attended the event, which took place Saturday and Sunday, according to its organizers.
The victims were identified as Derek Lee, 22, of San Francisco; Alyssa Dominguez, 21, of San Diego; and Roxanne Ngo, 22, of Chino Hills, according to the San Bernardino County coroners office.
Lee and Dominguez died early Sunday morning and Ngo died early Monday morning, authorities said. The causes of death were under investigation.
We were deeply saddened to learn about the deaths of three people who attended the festival this weekend, a Hard Summer spokeswoman, Alexandra Greenberg, said in a statement. While the causes of the deaths have not yet been determined, we ask everyone to keep them in their prayers. Our sincerest thoughts and condolences are with their family and friends.
Hard Summer was moved to Fontanas Auto Club Speedway this year after two young women died of drug overdoses at last years event at the Los Angeles County Fairgrounds in Pomona.
The parents of Katie Dix, a 19-year-old college student, recently sued event promoter Live Nation, Los Angeles County and others over Dixs death, which authorities blamed on multiple-drug intoxication.
The other death, of Tracy Nguyen, an 18-year-old UCLA student, was from an ecstasy overdose.
Ecstasy is a popular drug at raves where concertgoers use it to enhance the musical experience. It can also lead to dehydration, however, causing concern among medical officials as it is used in hot, crowded quarters where people sometimes dance for hours, and can lead to collapse and sometimes death.
Temperatures in the Fontana area, 50 miles east of Los Angeles, have been above 90F (32C).
Amid mounting concern about overdoses at raves, some venues have banned them.
The popular Electric Daisy Carnival was moved to Las Vegas after the Los Angeles Memorial Coliseum stopped holding raves following numerous drug overdoses and other problems. The Cow Palace in San Francisco banned them in 2010.
Hard Events, founded in 2007 by music executive Gary Richards who also performs as DJ Destructo, has grown dramatically in recent years and branched out to include hip-hop as well as electronic dance music, or EDM.
Ahead of last weekends rave, Hard Summer officials posted a lengthy list of warnings on its website for people attending this years event. They urged people to stay hydrated, take regular breaks from dancing and monitor themselves for any signs of heat exhaustion.
The warnings also said illegal drugs would not be tolerated and that people bringing prescription drugs would have to check them with medical authorities.
Read more: https://www.theguardian.com/us-news/2016/aug/02/three-dead-hard-summer-rave-california-drugs