Frances McDormand is commanding as a woman avenging the murder of her daughter in Martin McDonaghs modern-day western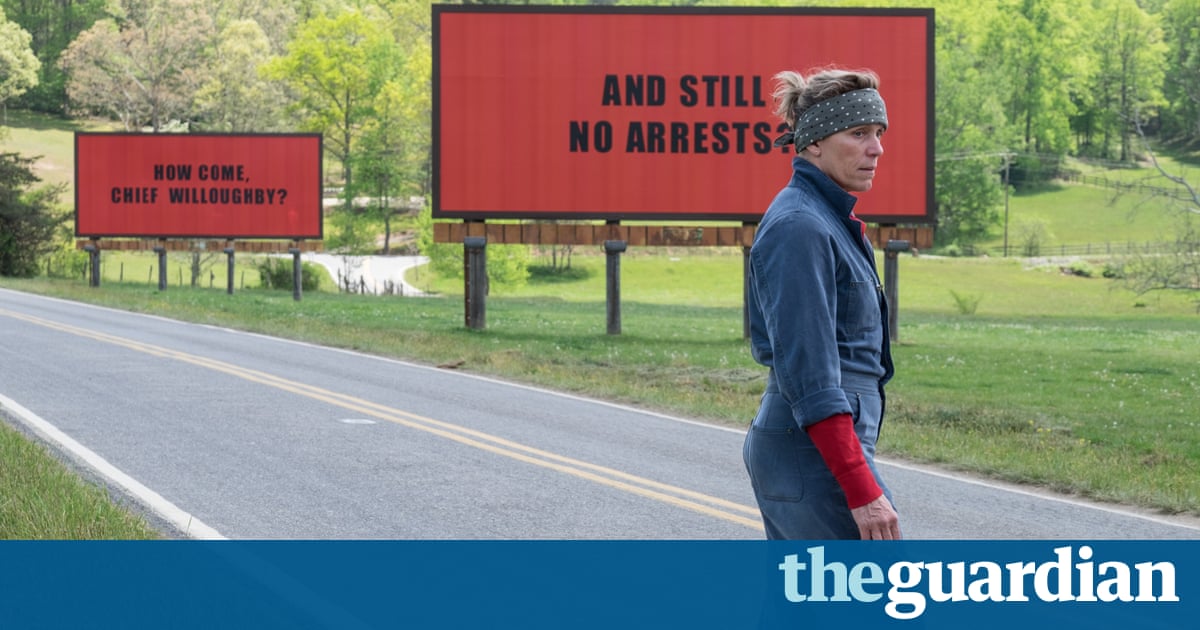 Frances McDormand gives a powerhouse performance in Three Billboards Outside Ebbing, Missouri, an uproarious delight of a film that snaps the eyelids up like roller-blinds and had the Venice film festival audience breaking into rounds of spontaneous applause. She plays Mildred Hayes, an angel of vengeance at loggerheads with the world. Lock the door and bolt the windows. Mildred comes rampaging up Main Street like hard-boiled Spencer Tracy in Bad Day at Black Rock.
Playwright Martin McDonagh won plaudits for his bustling 2008 feature debut, In Bruges but Three Billboards is on a whole other level. The director tosses it into competition, underarm, like a firecracker, where it promptly explodes in a flash of jokes, a splash of blood and a twisting plume of ornate dialogue. It remains to be seen how this one will bed down; how deep an impression it leaves once the smell of cordite has faded. But in the moment, good heavens, this feels like Bonfire night and the Fourth of July.
It has been a year since Mildreds teenaged daughter was murdered. The trail has gone cold and the cops have no leads. So Mildred takes matters into her own hands, renting a trio of dilapidated billboards on Drinkwater Road as a means of shaming the Ebbing police chief to action. Dont ask why she doesnt resort to social media instead. This womans old-school; she comes from pioneer stock.
If the billboards were intended to get Mildred noticed, they are counted a roaring success. The snag is that her fellow citizens are outraged. They adore police chief Willoughby (Woody Harrelson), and hate to see him embarrassed particularly when hes suffering with the cancer and all. And if Willoughby is too decent, or tired, to bring this infernal woman to heel, well, others are prepared to do his dirty work. Men such as Officer Dixon (Sam Rockwell), a little man with a gun in his hand, so inept at police paperwork that he lists vital witnesses as fat dentist and the lady with the funny eye. Dixon has recently dodged a conviction for beating up a black suspect. He reckons middle-aged Mildred will present still fewer problems.