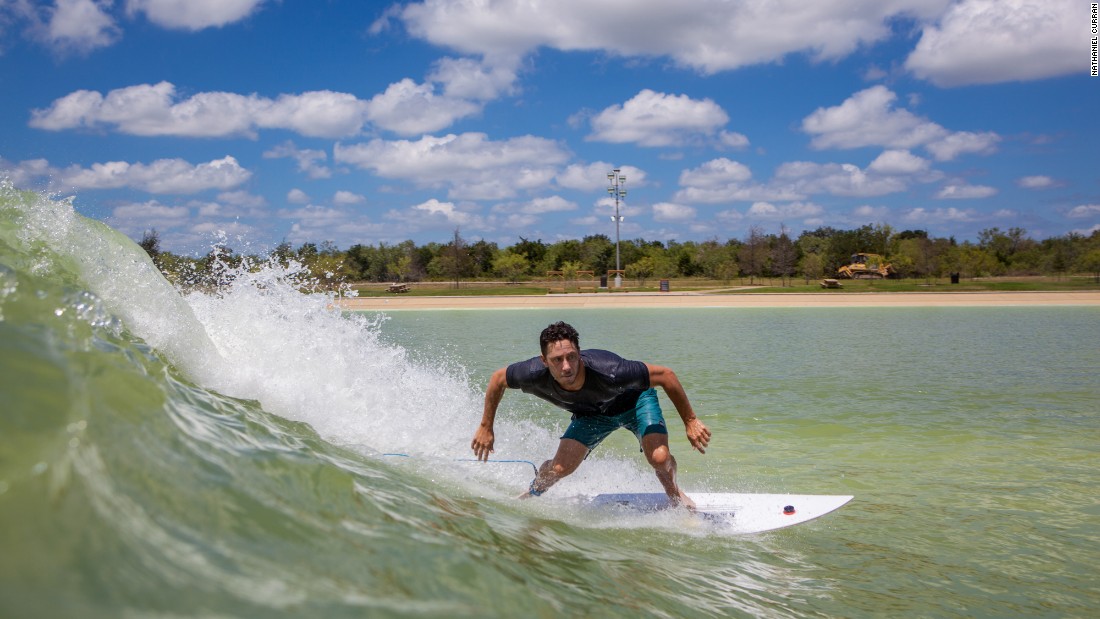 (CNN)Even if you're not visiting during the madness of South by Southwest, visitors can clearly see that Texas's ever-changing capital city thrives on new sights, sounds, and eats.
New stays
In South Austin, Hotelier Liz Lambert (of the Hotel San Jose and Hotel Saint Cecilia) continues to push (and preserve) mid-century Texas chic with the
Austin Motel
.
In Lambert's remodel of the circa-1938 motel, each of the 41 rooms gets cleaned-up, retro touches like vintage desks and old-school telephones; the neon sign and kidney-shaped pool remain.
The modern, 83-room building features an ideal location on the busy strip it's named for, and is steps from local-approved but tourist-friendly locations like Allens Boots and the Continental Club. If you overindulge, brunch at the hotel's Caf No Se might be the perfect prescription.
Cross the South Congress bridge — the "bat bridge" — and you're close to another of Austin's newest stays, the
Hotel Van Zandt.
The 319-room property opened in 2016 and pairs corporate polish (it's a Kimpton) with rustic dcor and live music (the on-site restaurant Geraldine's hosts acts every day of the year.) Venture outside and there are plenty more live acts and libations on Rainey Street.
New eats
June's All Day
is the latest from local food-and-drink impresario Larry McGuire of the fancy BBQ joint Lambert's.
It's a casual bistro where you can feast on a burger while watching people roll down South Congress in freshly bought Stetsons.
Everyone's got a favorite 'cue spot. Our suggestion: try a bunch 'til you're all smoked out.
One recent, undisputed great for your short list:
La Barbecue
where the brisket will fall apart on your plastic fork.
The East Austin food truck is open Wednesday to Sunday from 11 a.m. until 6 p.m. — or when they're sold out. Pre-order online or prepare for a line.
On the lighter side, there's
Launderette
, a James Beard semifinalist featuring modern takes on southern and Mediterranean cuisine, all served family-style.
New drinks
An old print shop in South Austin is the new home of the 150-year-old carved mahogany bar from the Cedar Tavern in New York, which closed in 2006.
Bakery during the day, beer garden at night,
Easy Tiger
is a casual hang spot no matter the time.
Early in the day, go for a locally roasted coffee and a Tiger Claw — a riff on a bear claw pastry, with a spiced pecan filling.
Another option, if you have time: Take a short drive to
Jester King Brewery
. It's a destination for beer geeks searching out some of the country's finest farmhouse ales, set on a rambling, 200-acre ranch.
Getting outside
To burn off the inevitable booze and BBQ calories, hit the
Violet Crown Trail
, whose path runs from Zilker Park (and the must-visit Barton Springs Pool) through the Barton Creek Greenbelt, a canyon forest studded with swimming holes and sport climbing routes.
And for an outdoor pursuit that's a little more unexpected, there's surfing. Yes, really.
NLand Surf Park
offers legit waves — from steep, over six-foot-high reef waves to gentler stuff, in a 14-acre manmade lagoon.
The park opened in October, then closed for repairs less than a month later; it's set to reopen this spring.
One-hour passes are pricey ($60-$90), but unlike the ocean, every wave is predictable, and catchable — so after an hour, you're torched.
Live music
As the self-proclaimed Live Music Capital of the World, Austin has plenty of places to hear world-famous acts.
The latest:
3TEN ACL Live
, a cozy, 350-capacity space located in the basement of its big brother venue, ACL Live at the Moody Theater.
Despite its modest size, the acoustically focused room boasts a stellar sound system befitting artists like Son Volt, who performed there unannounced in 2016.
To see a modern take on the honky tonk, drop in to
The White Horse
where two-stepping by those of all skill levels takes place in front of a low stage.
Read more: http://www.cnn.com/2017/03/17/travel/things-to-do-in-austin-texas/index.html