Christopher Underwoods grief over the unsolved murder of Akeal Christopher inspires action as the nine-year-old joins other survivors in demand for change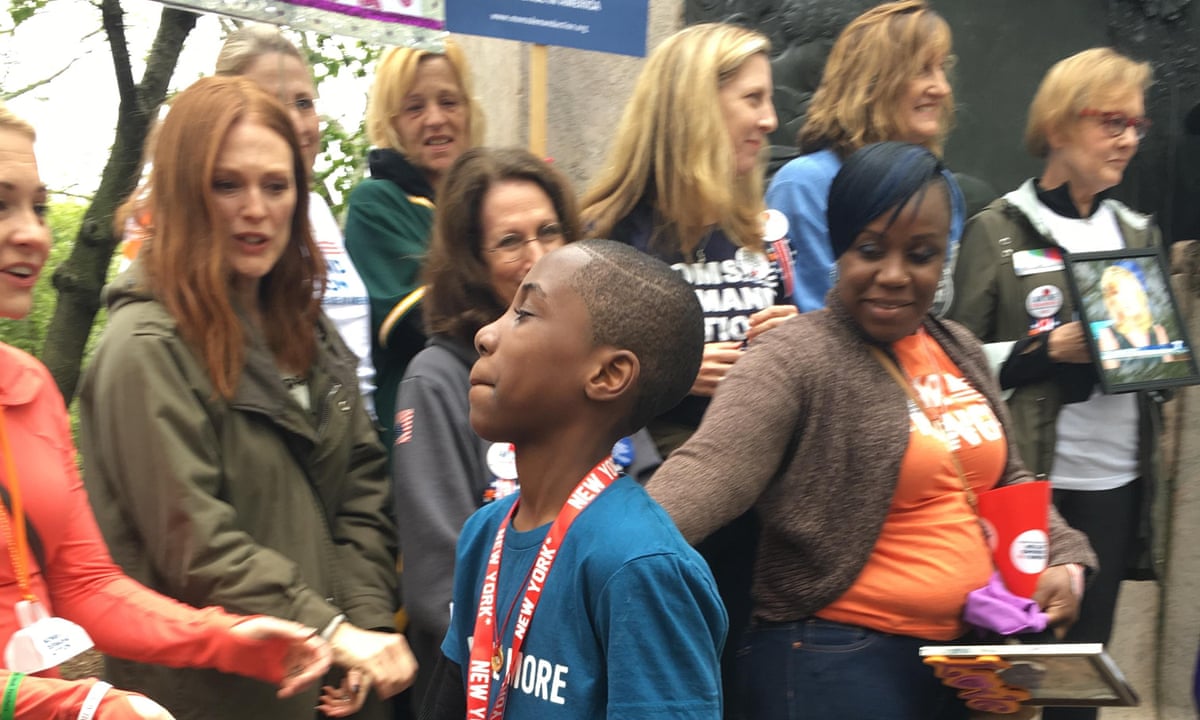 Christopher Underwood was just five years old when his older brother was shot in the head. For two weeks, he remembers, 14-year-old Akeal, shot on a street corner in Brooklyn, fought for his life in the hospital. Then Christophers mother told him Akeal was not coming home.
Christopher struggled. So did his 10-year-old brother, Rashawn, who had to start middle school not far from where Akeal was killed. The brothers grades dropped. Their mother said she could not find resources to support families dealing with the aftermath of gun violence.
Four years later, Christopher has become a regular speaker at gun control marches and other such events. He has been honored for his advocacy. Not yet 10 years old, he has an emphatic message: kids voices matter.
I speak out for Akeal and for everyone who has experienced gun violence, including the siblings who lose their brothers and sisters and other children whose voices arent always heard, the fourth-grader said on Saturday, at an annual Brooklyn march sponsored by Moms Demand Action for Gun Sense in America.
I have to use my voice to honor them, to fight for them. I may be just nine years old, but when I open my mouth, the voice that comes out is strong and can make a difference.
The crowd cheered.
More than 11,000 Americans are murdered with guns each year. About half are black men and boys. In recent years, according to estimates from the Centers for Disease Control and Prevention, an average of two black boys between the ages of 15 and 19 have been victims of a gun homicide each day.
That toll does not take into account the estimated 60,000 Americans each year who are shot in violent incidents and survive, or growing research into post-traumatic stress in children and adults exposed to violence.
On Saturday morning, Christopher took the subway from Queens to Cadman Park, Brooklyn, where advocates gathered to march across the Brooklyn Bridge. He rode with his mother, Natasha Christopher, and his brother Rashawn, now 15. On the subway, the two brothers leaned against the wall and talked quietly.
Rashawn, a high school freshman, helped Christopher write his speech. They had practiced his delivery the day before.
Hes so strong, Rashawn said. Ive never seen a kid that has been able to withstand what he had to and still come up with this great attitude.
His mother said Christopher made his first speech at a Mothers Day event for survivors of gun violence in 2013, when he was six. Since then, he has spoken at three Moms Demand Action marches, as well as at other events.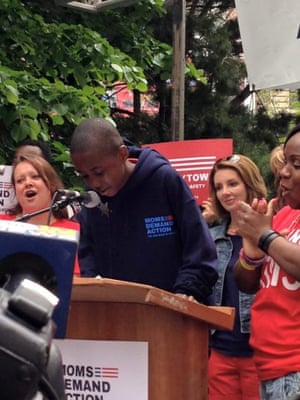 Read more: http://www.theguardian.com/us-news/2016/may/08/gun-violence-survivors-akeal-christopher-moms-demand-action