<figure class="media-landscape" no-caption full-width lead">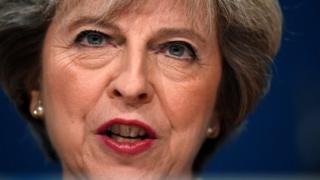 Image copyright Reuters
Theresa May is pledging to help schools and companies in England deal with the "hidden injustice" of mental illness.
In a speech, the prime minister will announce extra training for teachers, more online self-checking for those with concerns and a review of services for children and teenagers.
She will promise to "transform" attitudes to mental health problems.
Mrs May's speech comes as she outlines her plans to use the state to create a "shared society".
The government says one in four people has a mental disorder at any time, with an annual cost of 105bn, and that young people are affected disproportionately.
<div id="bbccom_mpu_1_2_3″ class="bbccom_slot" mpu-ad" aria-hidden="true">