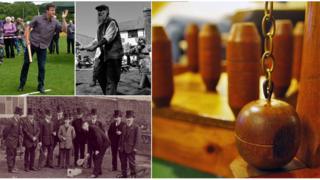 "As long as there were pubs and inns there were always games," says historian and 'doctor of darts' Patrick Chaplin. While his PhD is in the social history of that pursuit, the world of pub pastimes is far from restricted to the dartboard or the pool table. Anyone for a spot of dwile flonking or a game of devil among the tailors?
---
Bat and trap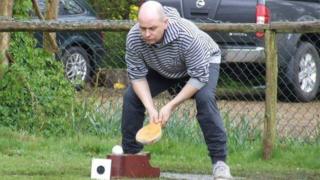 This game, which is played in the pub gardens of Kent, involves batsmen or women hitting a rubber ball that is fired upwards from a mechanical device – the trap.
Players attempt to strike the ball between posts at the other side of a pitch where the opposing team's fielders are positioned.
<figure class="media-landscape" has-caption full-width">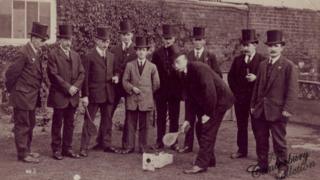 Image copyright Canterbury & District Bat & Trap League

Image caption Smart attire and moustaches were de rigueur when the Canterbury & District Bat & Trap League was formed in 1921
Andy Mitchell, vice chairman of Canterbury & District Bat & Trap League, says the game is a forerunner of cricket.
"The pitch is 22 yards long, which is the same length as a cricket wicket," he explains.
<div id="bbccom_mpu_1_2_3″ class="bbccom_slot" mpu-ad" aria-hidden="true">