<figure class="media-landscape" has-caption full-width lead">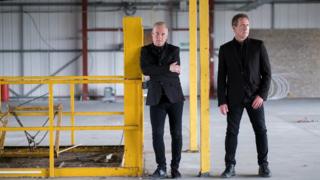 Image copyright Mark McNulty

Image caption Paul Humphreys and Andy McCluskey, aka Orchestral Manoeuvres in the Dark
Nearly 40 years ago, Orchestral Manoeuvres in the Dark started out as an attempt to capture the sound of the future.
As the rest of the UK moshed to punk and danced to Boney M, Andy McCluskey and Paul Humphreys were pulling components out of old radios to see what kind of sounds they could make in their parents' back rooms.
By 1980, Smash Hits was calling them "the acceptable face of synthesizers"; a British variant on Kraftwerk's cerebral machine music.
"We were fascinated by weird German music and writing songs about oil refineries," laughs McCluskey, "so nobody was more surprised than us that we got asked to make records, and then that we sold millions of records".
Thanks to songs like Enola Gay, Souvenir and Joan Of Arc, they clocked up six top 10 albums and made 29 appearances on Top of the Pops. For McCluskey, the tedium of taping the TV show was alleviated by the chance encounters he'd make at BBC Television Centre.
<div id="bbccom_mpu_1_2_3″ class="bbccom_slot" mpu-ad" aria-hidden="true">