<figure class="media-landscape" has-caption full-width lead">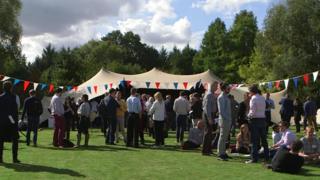 Image caption Around 200 people attended the Conservative Ideas Festival
The Conservatives have a problem. More young people are voting than at any time in the last quarter of a century, but largely not for them – so what can the party do to change that?
It's been labelled – perhaps unfairly – the "Tory Glastonbury". Around 200 activists, MPs, sympathetic thinkers and business people meet in the low September sunshine to discuss how the party can attract young voters.
Just two years ago, the split in support between Labour and the Conservatives among 18 to 29-year-olds was fairly even, 36% to 32%.
Fast forward to this June's general election and that small gap had become a chasm – according to pollsters YouGov – with Labour now on 64% to the Tories' 21%.
In fact, unless you were touching 50, you were in a minority if you voted Conservative.
<div id="bbccom_mpu_1_2_3″ class="bbccom_slot" mpu-ad" aria-hidden="true">