<figure class="media-portrait" has-caption full-width lead">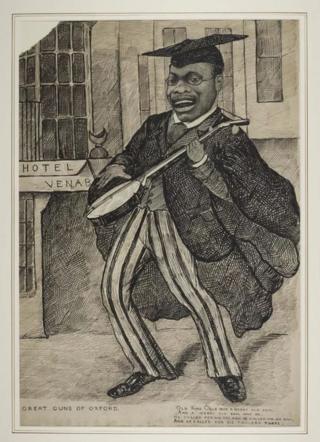 Image copyright Bodleian Library

Image caption Christian Cole was depicted in cartoons during his time at Oxford
In a salute to a "remarkable" man, the University of Oxford has paid tribute to its first black student. But who was Christian Cole and what was life like for him at a time when being black at the university wasn't merely unusual, but remarkable?
Cole was always likely to turn heads when he arrived in Oxford to read classics.
It was 1873 and he was a 21-year-old black man from Waterloo, Sierra Leone, studying alongside young men from the elite families of Victorian England (His arrival pre-dated the institution of the university's first women's college by six years.).
The city must have appeared a daunting place for Cole, said Dr Robin Darwell-Smith, an archivist at University College Oxford.
"For a lot of people he would have been the first black African they had ever encountered," he said.
<div id="bbccom_mpu_1_2_3″ class="bbccom_slot" mpu-ad" aria-hidden="true">