<figure class="media-landscape" no-caption full-width lead">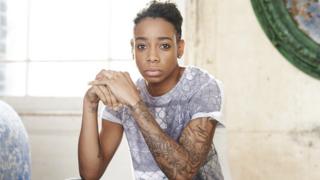 A.Dot is having a good year.
In the past month alone, the presenter has launched BBC One's new music show Sounds Like Friday Night, led 1Xtra to its highest ever breakfast show audience, and, perhaps most importantly, purchased some new gardening utensils.
"My proudest moment was when I invested in a leaf-blower," she tells BBC News.
"I take great care of my garden, and I think there are moments in life when you realise you're an adult, and one of those is when you buy your first leaf-blower from Argos."
Well put.
Successful leaf maintenance aside, Dotty (whose real name is Ashley Charles), has every reason to be in a good mood.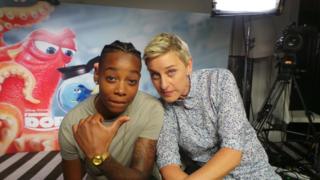 Last month's radio listening figures (or Rajars, as they're known in the industry), showed that the 1Xtra breakfast show she fronts now reaches 390,000 people every week – making her the most successful morning host in the station's history.
"The Rajars were great news, it's always an incredible vote of confidence to see statistically, in an industry-recognised metric system, that you're doing well," she says.
"But I think if you allow the praise to define you, then you'll ultimately allow the criticism to diminish you.
"So I try not to focus too much on the Rajars. As incredible as the figures have been, I try to just make sure it's business as usual."
<figure class="media-landscape" no-caption full-width">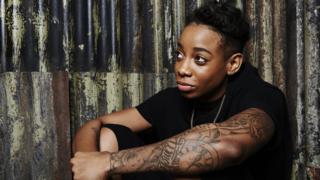 The 29-year-old is speaking to BBC News ahead of Thursday evening's Student Radio Awards, which recognise upcoming broadcasting talent.
(Winning best male at the ceremony in 2006 put Greg James on Radio 1's radar and led to a daytime presenting job.)
Dotty says her advice to anyone keen to get into radio presenting "would be to not try and emulate any broadcasters that have come before you".
"I think there are some greats," she says. "Terry Wogan was an incredible broadcaster. Scott Mills, if you ever want to learn how to be absolutely slick on radio, is a great example.
"But I think the most important thing about being a new broadcaster is you can learn from those people that have come before you, but you should always try to find your voice, and work out exactly where you fit in this growing industry."
<figure class="media-landscape" has-caption full-width">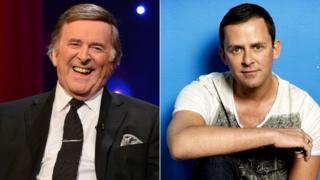 Image caption Dotty cites Terry Wogan and Scott Mills among her radio inspirations
She goes on: "For me, when I first started on radio, I wasn't trying to be like any other presenter. I wanted to be the anti-presenter.
"So where your traditional presenter would say, 'wasn't that a brilliant song', I'd rather be the person that says, 'well, that song is six out of 10' – you know, just be honest. And I thought maybe my thing can be that I'm honest, and say what people are thinking."
The formula seems to be working – as her breakfast show has just been extended to four hours, and now starts at 6am.
<figure class="media-landscape" no-caption full-width">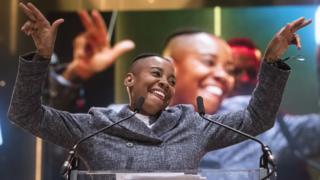 Image copyright PA
"When Blue Planet II ended on Sunday, it was bedtime," she says of her new early starts.
"Before, I might have another half hour. But the new start time means I have to go to sleep slightly earlier, I can't stay up past 9.30 at all."
But on the plus side, she's turned into a morning person.
"If you'd asked me a year ago, I would've said it's dreadful waking up early," she says.
"But I've been doing the 1Xtra breakfast show for just over a year now and I've really found my groove in that time. I used to be a bit of a night owl, but now I'm as perky as you like, so I can't complain about the early mornings at all."
<figure class="media-landscape" has-caption full-width">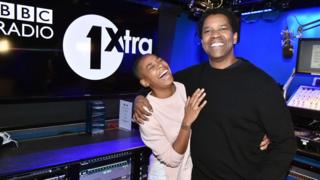 Image caption A.Dot interviewed Denzel Washington earlier this year
Her year on the breakfast show has seen her interview so many high-profile figures that she struggles to pick just one highlight.
"Ooh, that's a tough one," she laughs. "Might be Denzel Washington. He's certainly up there.
"It was incredible to speak to Ellen as well, she was a great interview."
When Dotty spoke to Ellen DeGeneres last year, she asked the US chat show host whether she felt a responsibility to represent the gay community.
In her answer, Ellen said: "I don't wake up in the morning and go, 'I'm gay, let's go'," – before Dotty brilliantly cut in, joking: "I do. Every day, in the mirror."
Now that Dotty has a more public platform, does she feel any such responsibility to the LGBT community herself?
<figure class="media-landscape" has-caption full-width">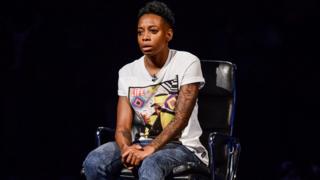 Image caption You know you've made it when you've appeared on Celebrity Mastermind
"For me, what I'm particularly proud of is that I'm able to be a voice or a face that people may not have readily had when I was growing up," she says.
"There wasn't anyone really that I could look to and say, 'that's a person like me on the TV', so for me the responsibility is in hopefully being a great role model to those people that didn't necessarily have one from my walk of life."
This weekend, Dotty will be co-hosting 1Xtra Live, which will see Bryson Tiller, J Hus, Donae'o and Stefflon Don take to the stage in Manchester.
Until 2012, it could easily have been A.Dot herself performing at such an event – she was a rapper before getting into radio.
<figure class="media-landscape" no-caption full-width">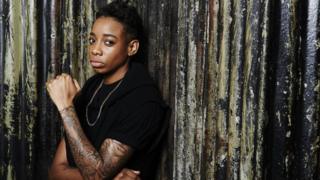 But she says: "I haven't done music for four years now, so for me I wake up every day and I'm a broadcaster, and I get to be a music fan again.
"When you're making music, you're very much in your own bubble, you're having your studio sessions, and you're focused on your music and your sound.
"Being a musician for all of those years made me the best version of a broadcaster that I can be, so I look at that as the prelude to where I am now."
1Xtra Live will be broadcast live on BBC Radio 1, 1Xtra and Asian Network from 20:30-23:00 GMT on 11 November, and will be available on 1Xtra's website and the BBC iPlayer.
---
Follow us on Facebook, on Twitter @BBCNewsEnts, or on Instagram at bbcnewsents. If you have a story suggestion email entertainment.news@bbc.co.uk.
Read more: http://www.bbc.co.uk/news/entertainment-arts-41900593