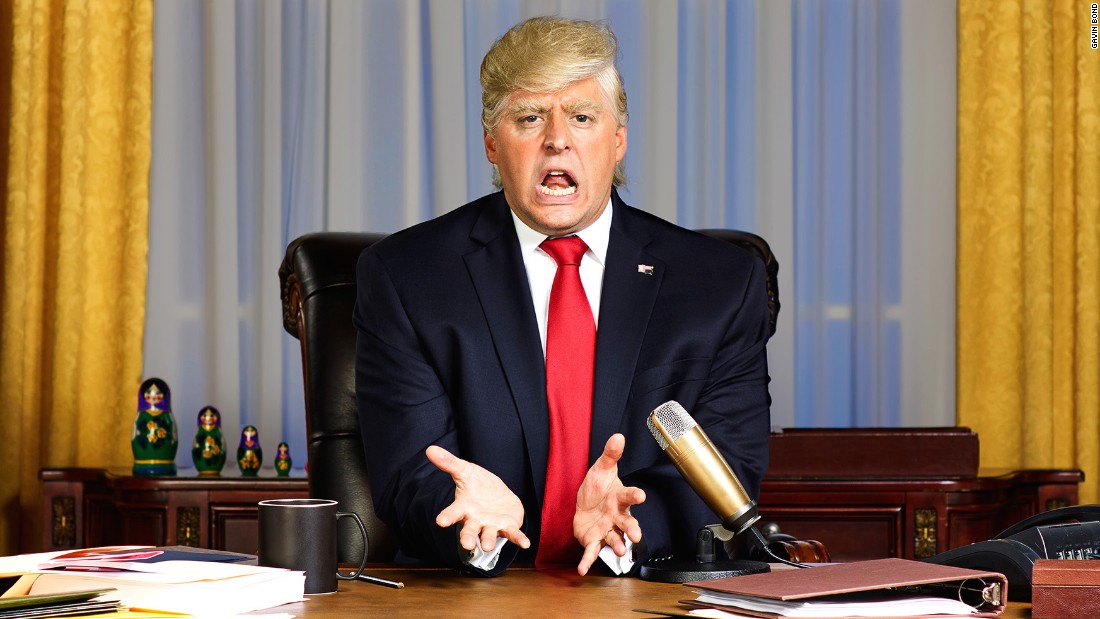 (CNN)Comedy Central has plenty of experience lampooning sitting presidents, but "The President Show" takes the satire up a notch, in a mock talk show hosted by none other than Donald J. Trump — or a reasonable facsimile thereof. The premiere yielded a few hearty laughs, but also exposed the limitations of the concept.
The show opened with a mock press conference, then shifted to Trump behind the desk, where Atamanuik rattled off a list of hit-miss lines. The best, by far, was his observation that the boos that greeted his daughter Ivanka in Germany were easily "the worst thing the Germans have ever done," while Pence fidgeted when asked to concur.
That was followed by a taped segment, in which Trump sought to visit his wife Melania in New York, only to have her lock him out of Trump Tower. The ensuing field piece was something of a mixed bag that skewed toward lower-brow gags, like having the fictional president swig mayonnaise.
<
ul class="cn" cn-list-hierarchical-xs cn–idx-5 cn-zoneadcontainer">
The most promising element, actually, came last, when Atamanuik interviewed guest Keith Olbermann. During the exchange, Atamanuik showed some of the mental dexterity Stephen Colbert exhibited in his old Comedy Central show, as he nimbly ad-libbed in character. New programs often have to find their way, and "The President Show" may discover that less preplanned material is better, assuming that the guests are able to play along.
Trump isn't the first Republican president to be spoofed by Comedy Central. The producers of "South Park" created "That's My Bush!" in 2001, a short-lived sitcom built around the character of George W. Bush (played by Timothy Bottoms), which primarily satirized sitcom conventions with its exaggerated laugh track and silly catchphrases.
"The President Show" is more pointed, and obviously isn't built for those who are staunchly loyal to Trump, with lines like "A 'me first' country gets a 'me first' president." It's been pretty well established, though, that there's a niche late-night audience for anti-Trump humor, and with better writing than Trump saying that FDR was attacked by "Marco Polio," the series might have a shot.
Near the outset, Atamanuik compared the frenetic pace of Trump's presidency thus far to the coked-out climactic sequence in "Goodfellas."
"You're all going to keep feeling like that the whole time I'm president," he said.
Barring a creative uptick, the chances of a novelty act like "The President Show" hanging around that long look slim. Still, as more than one pundit has noted over the last year, stranger things have happened.
"The President Show" airs Thursdays at 11:30 p.m. on Comedy Central.
Read more: http://www.cnn.com/2017/04/28/entertainment/the-president-show-review/index.html