<figure class="media-landscape" no-caption full-width lead">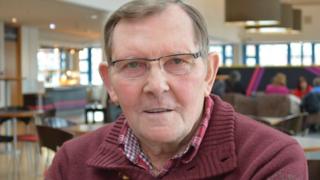 "When I get up in the morning, I always tell myself I'm going to have a good day. Some days it works, and some days it doesn't."
Bob Fulcher was diagnosed with Alzheimer's disease eight years ago.
"I try to live within the day," he says. "I don't worry about tomorrow, because that's not here yet."
Something that's been making Bob's days better recently has been working on the UK's first festival of theatre and dementia at the West Yorkshire Playhouse in his home city of Leeds.
The festival, which opens on Friday, includes the UK stage premiere of Lisa Genova's novel Still Alice – which was a film starring Julianne Moore in 2014 – and other plays including one co-written by Bob based on his childhood memories.
<div id="bbccom_mpu_1_2_3″ class="bbccom_slot" mpu-ad" aria-hidden="true">