The Lifetime biopic Surviving Compton fills in the gaps left by the other NWA movie and reveals that women in the rap stars orbit were callously abused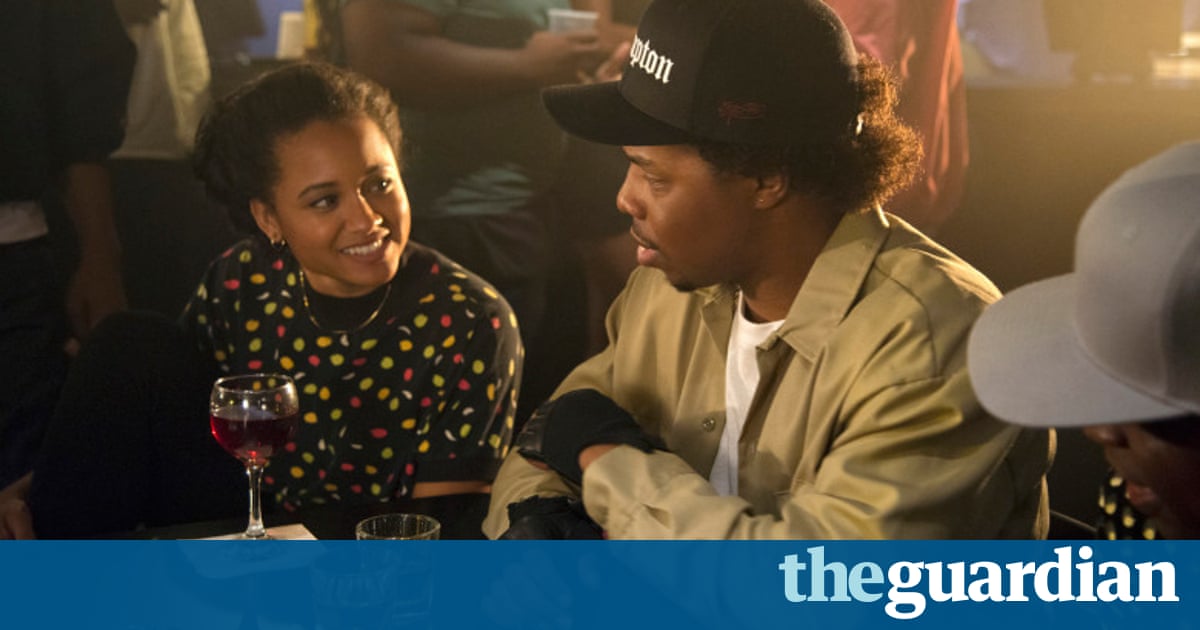 Last years blockbuster biopic Straight Outta Compton chronicled the rise of gangsta rap pioneers NWA and their label, Ruthless records. But the film almost entirely neglected a lynchpin member of the crew: Michelle.
The late 80s R&B star is the subject of a new biopic, Surviving Compton: Dre, Suge & Me, which debuted over the weekend on Lifetime. It covers much of the same ground as the NWA film the volatile late 80s and 90s, when NWAs hardcore hip-hop swept the nation. But Straight Outta Compton didnt show how Michelles radio-friendly ballads and uptempo dance tracks helped pave the way for Ruthless mainstream credibility. It also failed to portray NWA producer Dr Dres repeated violence against women violence that Michelle, Dres former long-term girlfriend and mother of his son Marcel, alleges as well.
Surviving Compton seeks to set the record straight. Though the production values dont rival those of last years hit (the producers were unable to secure access to NWAs music, for example), it fills in large gaps in the story.
Prior to its release, Dr Dres lawyers threatened legal action against the film-makers if the movie contained scenes of him assaulting her, which he denies. But Surviving Compton nonetheless contains numerous chilling sequences of Dre beating her, and even one where he shoots at her. Hes otherwise portrayed as a cheating, boozing manipulator who neglects her once he becomes famous. Michelles next love interest Suge Knight, by now Dres arch rival doesnt come off much better.
The question many viewers will have after their viewing: is the film accurate?
I would say, for the most part, yes. I extensively interviewed Michelle and other survivors of Dres alleged abuse for my new book Original Gangstas: the Untold Story of Dr Dre, Eazy-E, Ice Cube, Tupac Shakur, and the Birth of West Coast Rap, and investigated their claims. The film largely echoes Michelles accounts to me, though she never went to police with her allegations unlike other women including television host Dee Barnes and Lisa Johnson, the mother of three of Dres children who alleged he beat her many times, including while she was pregnant. (Dre pled no contest to beating Barnes, and received probation, while Johnson was granted a restraining order against him. A Ruthless rapper named Tairrie B also maintains that Dre beat her.)
To be sure, Surviving Compton glosses over many details. It depicts the squeaky-voiced South Central native Michelle being plucked from obscurity from a job folding clothes at the mall to sing with Dr Dres first group, but neglects a funny detail I uncovered that her initial stage name was Baby, and she walked around with a pacifier around her neck. Other details that NWA were marijuana fans, or that Suge Knight intimidated Tupac Shakur and bossed him around are entirely false.
But the soul of the story rings true. Michelles character, as a young girl, is taught by the women in her life that men beating women is normal, and should be tolerated. She endures Dre and Suges abuse for the promise of money, fame and most importantly love. Despite her early success she never reaches her singing potential, partly because shes stuck raising Dres child in his absence. Suge promises her a fresh start, both personally and professionally, and they too have a child together, but eventually his violent tendencies sabotage everything. The performances of Rhyon Nicole Brown (as Michelle) and R Marcos Taylor (reprising his Straight Outta Compton role as Suge Knight) are particularly strong. A surprisingly sincere Jamie Kennedy, meanwhile, plays recently deceased NWA manager Jerry Heller, who somehow comes off better than anyone else.
Mirroring the arc of films like the Tina Turner biopic Whats Love Got to Do With It? the story ends with Michelles affirmation of self, and before the final credits we receive great news: shes recording a new album and touring again. While its likely that Surviving Compton wont endure like Straight Outta Compton, owing to its smaller budget and platform, if there were any justice in the world the two films DVDs would be sold as a bundle. After all, the story of NWA is simply incomplete without the story of Michelle.
Read more: https://www.theguardian.com/music/2016/oct/17/surviving-compton-nwa-michelle-dr-dre-beating