The National are one of Americas most revered bands, their music equally at home in concert halls, art galleries, TV shows or on Obamas campaign trail. Ahead of a new LP, they talk fatherhood, politics and creative tension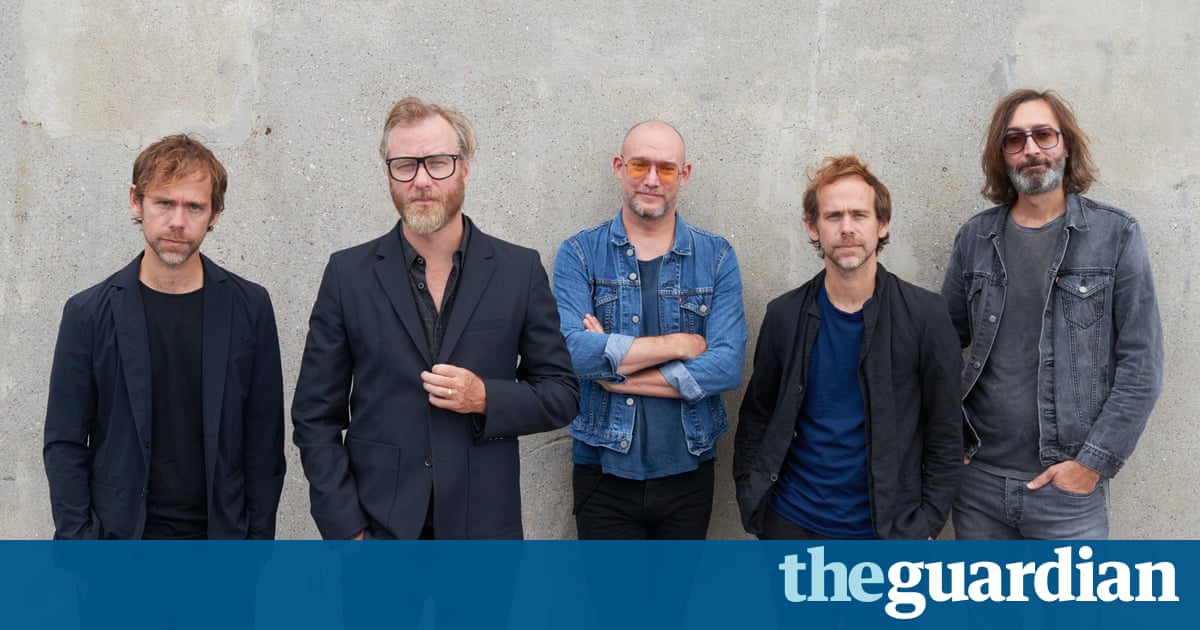 Matt Berninger, lead singer of the five-piece rock band the National, prowls the main stage of the Haven festival in Copenhagen, sloshing a pint of white wine on the rocks, what he calls Cincinnati sangria. Hes smartly dressed in varied shades of dark grey, charcoal and faded black, and has the air of the charismatic lecturer whose female students all have a crush on him. Looking on from the side of the stage, watching the rapt expressions of the fans, it calls to mind the scene in one of the Indiana Jones films where hes trying to talk to a class about an obscure archeological find only for a girl in the front row to blink and reveal she has Love You written on her eyelids.
Berninger, who is 46, is a compelling frontman. He is known for his rambling, drunken forays into the audience; so much so that he began to wear shin guards under his suit to protect his legs as he clambered over railings. But he also, counterintuitively, suffers from panic attacks and extreme stage fright. At the Eaux Claires festival in Wisconsin in 2015, Berninger forgot the lyrics to a handful of songs. After that, he began to use a teleprompter on stage, and his anxiety has since been much reduced. It does, however, lead to the incongruous situation, such as at Haven, where Berninger will look out and see 20,000 people mouthing words he has written, and hes the only one who doesnt know what comes next.
Having the lyric monitor has made me enjoy the shows, I would say, almost for the first time, Berninger tells me, before he goes on to perform. You know, it feels humiliating to be on stage singing love songs with lights on you in front of people. I mean, it just is. But Ive learned to own that and to enjoy the nakedness of it. I just feel if youre going to be that naked, then just run around with your arms out.
If you need an introduction, the National are Americas Radiohead. They are unabashedly cerebral: brilliant composers and classically trained musicians slumming it in a guitar band. Though you will find them on the Pyramid stage at Glastonbury, its also no surprise when they turn up at Momas PS1 gallery in New York playing one of their songs, the three-minute Sorrow, for six straight hours, only stopping for a pork-rib sandwich, as part of a piece conceived by the Icelandic artist Ragnar Kjartansson. (The recording is now available in a nine-LP box set.) Their regular albums the seventh of which, Sleep Well Beast, is about to be released sell by the shed-load. They have performed a track for Game of Thrones, but they devote similar rigour to scoring ballets or chamber music.
Like Radiohead, too, the National are made up of brothers and school friends. This gives the outfit a permanence and a solidity that allows it to survive and thrive despite its members frequent infidelities with other artists. All five are from Cincinnati, Ohio, in the midwest, but the National were formed in New York in the late 1990s. Berninger, a graphic design graduate, wanted to record songs on an eight-track with his college roommate Scott Devendorf, a bassist. Devendorf enlisted his brother Bryan, a drummer, who in turn nominated a pair of identical twins, Aaron and Bryce Dessner, with whom hed been playing in bands since he was 15. Bryce had just finished at the Yale School of Music, where he studied guitar, and Aaron, a Columbia graduate, was working in Yales Holocaust library.
The National did not hurtle out of the traps. They spent years playing to empty rooms, working day jobs, watching contemporaries become successful. One time, according to band legend, they were paid not to perform. Berninger had yet to find a way to channel his nerves into a riveting, unpredictable live spectacle.
But two things were happening: they were becoming a unit, tight as a family, and they were improving. Specifically, a curiously productive, occasionally antagonistic tension was becoming established between Berninger and the Dessner twins. Berninger has no musical training I dont know what notes are, I literally cant play a G chord and was always pushing to make the National sound more simple and sparse. The Dessners, meanwhile, whose father was a jazz drummer, and who play more instruments than you can shake a maraca at, wanted to push it ever weirder and wilder.
Titanic rows ensued, but out of the compromises came songs like no other band were making: both grand and bombastic, but also intimate and melancholic. A strong hint was given on Alligator, their 2005 album, and it became unmistakable a decade ago with the release of 2007s Boxer. That record took its name from a recurring theme in the lyrics about people who love each other often having the most vicious fights. And this neatly sums up the dynamic of the members of the National themselves. (Thank the lord for the Devendorfs, who are also virtuosic musicians, but much more laid-back.) The stand-out track from Boxer, Fake Empire, was adopted by Barack Obamas 2008 campaign to unseat George W Bush and entrenched an idea that the National made music for people somehow discombobulated by the modern world.
Each album since High Violet in 2010, 2013s Trouble Will Find Me has developed this singularity and added admirers. And now, after a four-year break, comes Sleep Well Beast. Rumour has it that during the recording the National were more harmonious that they have ever been. All five are in their 40s now, all have partners and young children. Instead of living on top of one another in Brooklyn, the band have dispersed around the world, and the album was made in a bucolic spot in upstate New York, overlooking a tranquil pond where bullfrogs congregate at dusk.
This newfound harmony proves to have been overstated: Matt will be off in a corner, writing something incredibly distilled, says Aaron Dessner, of the studio experience. Then he comes back and well have made this Willy Wonka and the Chocolate Factory arrangement, with all these beautiful colours. And hes like, Whats all that? Just turn it off! And were like, Weve literally just spent three years on that!
Bryce Dessner, the less headstrong of the twins, has earned the nickname Switzerland because of his skill in cutting a deal between Berninger and his brother. But when Sleep Well Beast was being mixed, Bryce had a newborn at home and was often absent. The usual balance of power went way off basically, he sighs. It got prettynasty.
Aaron shakes his head, Yeah, Im barely recovered.
Haven, a two-day festival held in early August, is perhaps the purest vision of the National universe. It has been curated by the Dessners, along with two Danes: Claus Meyer, the co-founder of Noma, often called the worlds best restaurant, and Mikkel Borg Bjergs, a cult legend in craft brewing. The idea is that, in a civilised world, you should be able to pop Japanese glazed meatballs and sip a hoppy IPA while listening to, say Bon Iver or Iggy Pop or the world-class Danish String Quartet. Elsewhere, in a shipping container, youll find a baroque strip club where the artist Ragnar Kjartansson, now a friend of the band, sheds his clothes down to a pipe, sailors cap and pair of gold, sequinedunderpants.
Bryce and I are born collaborators, explains Aaron, who helpfully tends to wear his hair down and floppy, while his brother sweeps his up and back. We grew up literally staring at each others hands playing guitar. We dont have to teach each other anything, and we finish each others ideas and we challenge each other. So its very natural for us: weve always been open in our process, never closed.
The day before the festival, the National limbered up in a rehearsal room in the Rhythmic Music Conservatory in Copenhagen. Its a picturesque campus, in the shadow of what must be the worlds most stylish power station, and the room they are playing in is just a couple of steps and a dive from an inlet in the citys harbour. There were girls skinny-dipping in there earlier, says Berninger, smiling. The Observers photographer, Suki, wonders if they might have been groupies or at least known who the band were. No, replies Bryce, seemingly bemused by the idea. When in Denmark, I guess.
The list of places where the members of the National now reside reads like the locations for a fashionable chain restaurant: Copenhagen (Aaron), Paris (Bryce), Los Angeles (Matt), Long Island (Scott) and Cincinnati (Bryan). This is a marked change from previous records. Until 2015, Aaron owned a house in Ditmas Park, Brooklyn and rented out the upstairs duplex to Berninger; Bryce had an apartment on the same street; the Devendorfs lived not far away. When the band wanted to record an album, they just walked a few steps to the garage in Aarons garden.