The Leicester City story is so captivating because Claudio Ranieris champions in waiting have brought hope where many thought there was none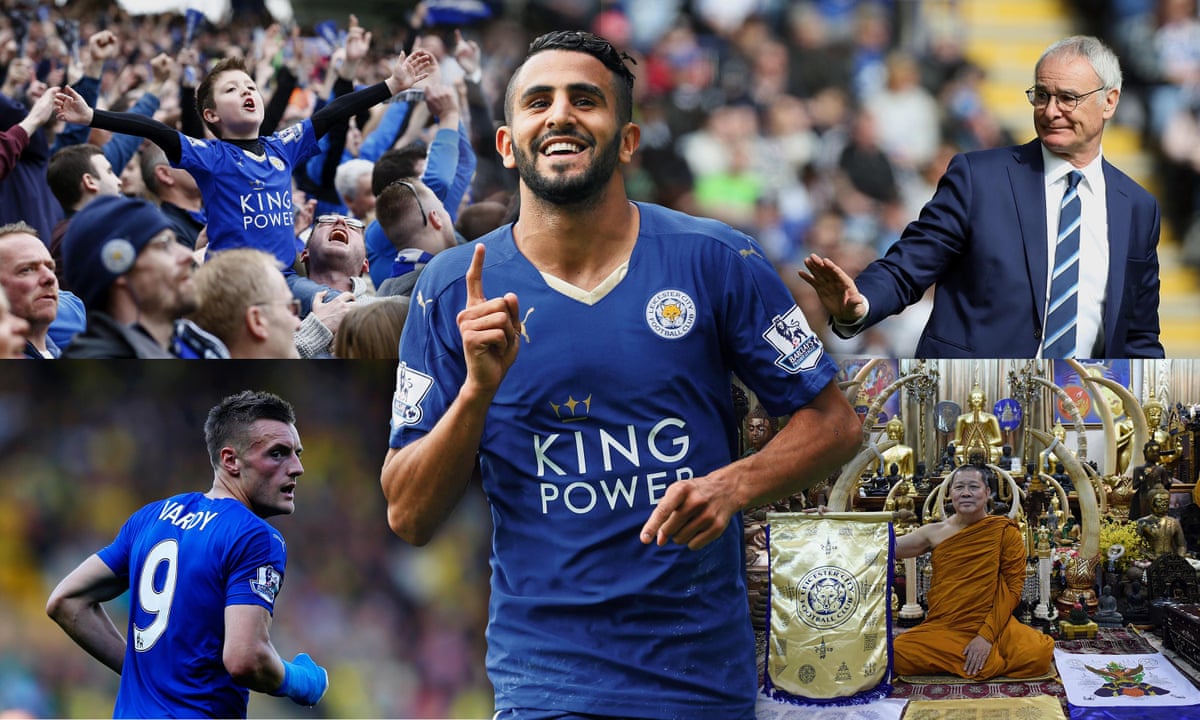 This, perhaps, is an opportune moment to recall a line from Graham Chapman a man born in Leicester even if his unofficial plaque, pointing out he is not the Messiah, is located outside one of his favourite drinking holes in Highgate when he and John Cleese were writing what turned out to be the Dead Parrot sketch for Monty Pythons Flying Circus.
What is not entirely known is that it was originally a faulty toaster that the customer was taking back to the hardware store. It was Chapmans intervention that turned it into gold. How can we make this madder? he had wondered. The toaster was replaced by a dead Norwegian Blue parrot and television was given one of its more surreal pieces of lunacy.
How can we make this madder? would probably be an apt title when someone gets round to writing the book about what has happened to Leicester City. None of it really makes sense. Baffling, beautiful and stamped with its own copyright. Where else, just for starters, has a story of this nature begun with a manager, infamous for calling a journalist an ostrich, being sacked after an orgy involving several players, one being his son, on a club tour to Bangkok? What kind of logic went into deciding the best person to replace that manager was someone who had lost his last job, in charge of Greece, after losing to the Faroe Islands? And good luck to any prospective title-winners trying to copy the formula.
Some enterprising street sellers have appeared outside the King Power Stadium in the past couple of weeks with several bags filled with Champions scarves. Some were held aloft after the win at Sunderland last weekend and Alan Birchenall has used his column in the Leicester Mercury to urge supporters not to get too far ahead of themselves. Not yet, anyway. I know some of the fans who wore them got an ear-bashing from other fans, Birchenall says. Lets park those sort of things until the time is right.
Yet Leicester is being dizzied by title fever. Claudio Ranieris latest press conference featured questions from Barcelonas Sport newspaper, Fox Australia, La Repubblica, the Discovery Networks and BT Sport, a Danish newspaper which has a correspondent in Leicester for the next three weeks. The problem is we cannot get into any games, its reporter, Farzam Abolhosseini, says glumly. Leicesters press box is oversubscribed and buying a ticket is not straightforward unless you can afford the obscene amounts the touts are asking (up to 15,000). Otherwise, there are Sold Out posters around the stadium where, walking down Lineker Road, past the old electricity station, the car garage and along Filbert Way to the home of the champions in waiting, one word stands out. It is emblazoned on the side of the stadium in giant capital letters: Fearless.
Leicester have already appeared on the front of the Wall Street Journal in an article that handily explains it is Less-ter, not Lie-ches-ter, and asks whether a correlation can be drawn between the discovery of Richard IIIs remains in the city and the fact that ever since he was ceremonially reburied, in March last year, the team have barely stopped winning.
Sports Illustrated has introduced readers to the story with the headline: As likely as Elvis being alive. CNNs cameras have been carrying out vox-pops in the city centre and a small army of Japanese journalists, following Shinji Okazakis progress, has flown into the place where JB Priestley once wrote he was quite ready to praise it, but glad to think I did not live in it. Leicester: the city of Showaddywaddy, Joseph Merrick, Willie Thorne, Engelbert Humperdinck and Adrian Mole. Population: 330,000. Motto: Semper Eadem. It means Always the Same and in a football context that is not a bad description of the clubs 132-year existence. League titles pre-2016: zero. FA Cup wins: same again. Fairytales: ditto.
It has not been an entirely heroic journey and they might have to forgive us for suspecting some fancy footwork, to put it in the most generous terms, to circumnavigate the Football Leagues financial fair play regulations when they were promoted two years ago.
Jamie Vardys racism, caught on CCTV at a late-night casino, is not a stain that will wash out easily and let us not forget it was Leicester going into administration, wiping out 50m of debt, that shocked the Football League into imposing 10-point penalties for any clubs planning similar tactics. Leicester owed 6m in tax at the time and perhaps it would be a decent gesture, on the verge of hitting the jackpot, if they remembered the 16,000 they owed to East Midlands Ambulance Service or the 4,415 that should have been paid to St John Ambulance for providing first-aid volunteers. They have never seen a penny and nobody can possibly say Leicester cannot afford to put it right.
All the same it would need a remarkable killjoy not to appreciate what has happened at a club that spent almost six months 175 days, to be precise in the bottom three last season with their toes in danger of being tagged for the relegation morgue.
Leicester has had a world snooker champion, an X Factor winner, a Glastonbury-headlining band and a secret diary-keeper, aged 13 and three-quarters, who once had a go at glue-sniffing and accidentally stuck a model aeroplane to his nose. What they have never had is a title-winning football team and, barring one near miss in 1962-63, they have never really been close since finishing as runners-up to Sheffield Wednesday in 1929. Since the second world war Leicester have spent as many years outside the top division, 35, as they have in it. They have managed only five top-seven finishes, the last being 40 years ago, and were grubbing around for points among the puddles and potholes of third-tier football as recently as 2009.
On this weekend seven years ago they were preparing for League Ones run-in on the back of a 3-1 win against Hereford United at Edgar Street, in front of 4,389 people. Leicester had three matches left: Southend, Scunthorpe and Crewe. Dont assume Riyad Mahrez was joking when he said he had never heard of Leicester until they tried to sign him. I thought they were a rugby club, the Algerian explained.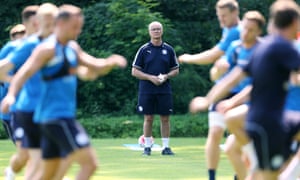 Read more: http://www.theguardian.com/football/2016/apr/15/leicester-city-dreamers-dream-makers-claudio-ranieri