New president remains in Senegal after ex-leader Yahya Jammeh guaranteed right to return home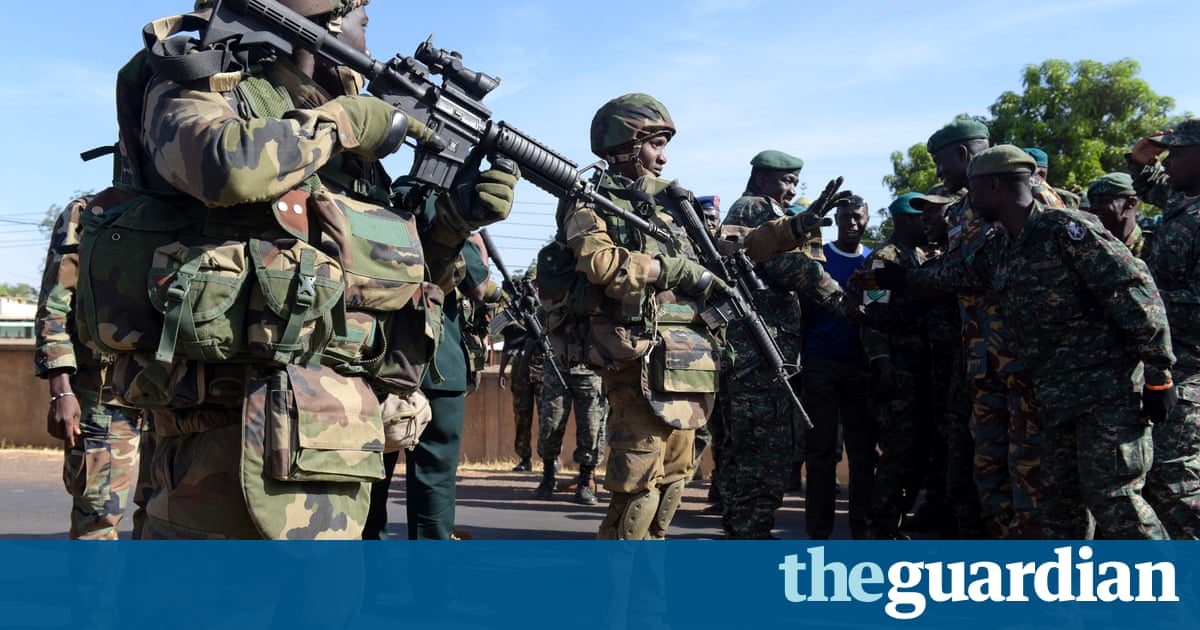 The Gambia awaits the arrival of its new leader and an era of democracy, hours after the authoritarian ruler of 22 years flew into exile.
Adama Barrow has remained in neighbouring Senegal as a whirlwind political crisis sparked by his December election win came to a close on Saturday after former leader <a href="https://www.theguardian.com/world/2017/jan/21/anxious-gambians-await-former-president-yahya-jammeh-departure" data-link-name="in" body link" class="u-underline">Yahya Jammeh was guaranteed the right to come home.
A joint declaration by the United Nations, African Union and West African regional bloc Ecowas, issued shortly after Jammehs departure, said the bodies would work with Barrows government to make sure Jammeh, his family and his close associates were not the target of punishment.
The unpredictable Jammeh, known for startling declarations such as his claim that bananas and herbal rubs could cure Aids, departed late on Saturday with a wave. He was last seen flying toward Equatorial Guinea, which is not a state party to the international criminal court.
Jammehs dramatic about-face on his election loss to Barrow, at first conceding and then challenging the vote, appeared to be the final straw for the international community, which had been alarmed by his moves in recent years to declare an Islamic republic, leave the Commonwealth and leave the ICC.
With global backing, Barrow was sworn in on Thursday at the Gambias embassy in Senegal for his safety, hours after Jammehs mandate expired at midnight. Meanwhile, Jammeh was abandoned by his defence chief and many cabinet members.
A regional military force that had been poised to oust Jammeh if last-minute diplomatic efforts failed entered the Gambia shortly after his departure and was securing the country and its capital, Banjul, ahead of Barrows arrival.
President Barrow would like to leave [Senegal] as soon as possible. One cant leave the country open, Marcel Alain de Souza, chairman of the regional bloc, told reporters. But part of the Gambias security forces needed to be immobilised, he said, and he confirmed that Jammeh had mercenaries by his side during the standoff.
De Souza also revealed details of the negotiations before Jammehs departure. In response to his insistence on a sort of amnesty for him and his entourage, the West African regional body attempted to have the Gambias national assembly vote on an amnesty law. Sadly, we couldnt reach a quorum. The deputies had fled, De Souza said. Most were in their villages. The others were in Dakar [Senegals capital].
Jammeh wanted to stay in his home village in the Gambia, but regional heads of state preferred that for the moment he left the country, De Souza said.
With Jammeh gone, a country that had waited in silence during the standoff sprang back to life. Shops and restaurants opened, music played and people danced in the streets.
Some of the 45,000 people who had fled the tiny country during the crisis began to return. The nation of 1.9 million, which promotes itself to overseas tourists as the smiling coast of Africa, has been a major source of refugees heading north towards Europe.
Read more: https://www.theguardian.com/world/2017/jan/22/the-gambia-adama-barrow-yahya-jammeh-senegal