<figure class="media-landscape" has-caption full-width lead">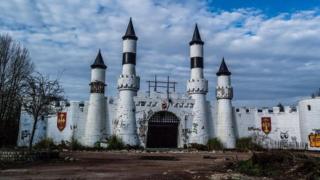 Image copyright Alamy

Image caption The Camelot theme park, near Chorley in Lancashire, was based on Arthurian legend
Incredibly expensive to run, and under increasing pressure to keep up with the big boys like Alton Towers and Drayton Manor, many modest amusement parks have struggled with dwindling visitor numbers before coming to a complete standstill.
One of the most recent victims is Pleasure Island in Cleethorpes, which closed at the end of the 2016 season after 23 years of business.
Those keen to get their hands on a piece of its history, as well as bag a bargain, can buy some of the fixtures and fittings as the contents are sold at auction. Lots include "a large box of comedy glasses" expected to go for about £10, various pieces of catering equipment, and for the pleasure-seeker with £250,000 to burn, the 114-year-old carousel.
But after the last candy floss has been eaten and the gates closed for the final time, what happens at the parks where the top thrill was a twirl on the teacups, a spin on the dodgems or a pit-stop at the petting zoo?
Some sites are sold and developed, others remain in the custody of a security guard or two and left to rot, while a handful become spookily picturesque.
<div id="bbccom_mpu_1_2_3″ class="bbccom_slot" mpu-ad" aria-hidden="true">