The long read: A bitter legal row over a mosque in an affluent New Jersey town shows the new face of Islamophobia in the age of Trump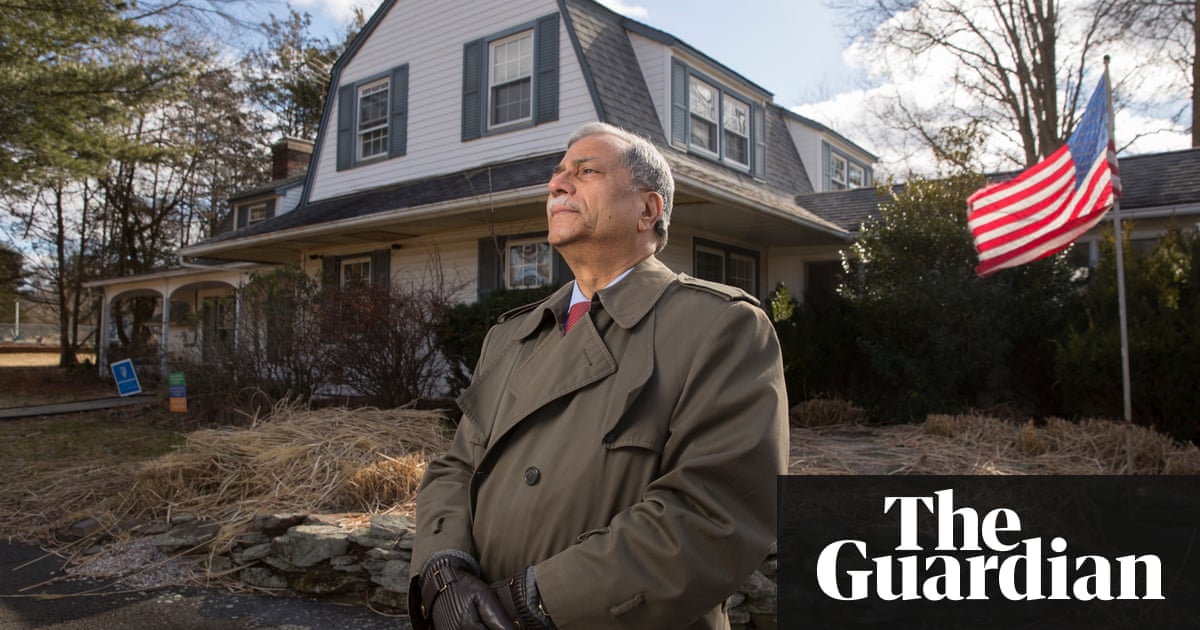 Forty years ago, Mohammad Ali Chaudry, a Pakistani-born economist, made his home outside New York City. He came for an executive job at the telecoms company AT&T, and ended up working there for decades. Like many immigrants to the US, Chaudry came to wholeheartedly believe perhaps more fervently than his native-born neighbours in the triumphal story that Americans tell about their nation: how it was always growing stronger through change, melding the many into one through the process of assimilation. Chaudry was a devout Muslim. But to him, it always seemed the things that made him different mattered less than the ways in which he had proved he was the same.
Chaudry and his wife, who is from Italy, raised three children on a street called Manor Drive, in the town of Basking Ridge, in the centre of the state of New Jersey. This is not the Jersey of popular imagination the land of belching smokestacks immortalised in Bruce Springsteens working-class anthems. Basking Ridge is out in horse country, an area of rolling green hills and white-steepled churches, not far from Bedminster, where Donald Trump has his summer estate. In keeping with the values of his adopted community, Chaudry became an active member of the local Republican party and a conspicuous civic presence, running for various elected boards. In 2004, at the height of George W Bushs war in Iraq, Chaudry became the first Pakistani-American to serve as mayor of a municipality in the US.
Long after Chaudry retired from both AT&T and electoral politics, he continued to keep a busy schedule of volunteer activities, most focused on building religious tolerance. He ran a small nonprofit organisation called the Center for Understanding Islam, and taught classes at local universities. Chaudry is bantam-sized, with a silvery moustache and a starchy manner, and despite his age now 75 he possesses a bottomless reservoir of diligent energy. He would travel the state, speaking to audiences young and old, always dressing the part of a politician, with a little American flag badge in his lapel. If there was prejudice around him in his adopted hometown, Chaudry later said that it was not obvious, or visible, or overt.
That changed in 2011, when he found a new cause: building a mosque in Basking Ridge. For years, Chaudry and other local Muslims had been using a community centre for a makeshift Friday service. But Chaudry decided that the Islamic Society of Basking Ridge needed a permanent place to pray, and he located what he believed to be a suitable site: a four-acre lot occupied by a rundown Dutch Colonial house. Soon after purchasing it, Chaudry held an open house to greet the neighbours. There was not too much tension, he said. It was kind of jovial. He put the letters ISBR on the mailbox in front of the house, to announce the Islamic Societys arrival.
Then someone smashed the mailbox. I was, of course, very surprised, Chaudry said. Under New Jerseys planning laws, the Islamic Society had to secure the approval of the municipal government to build the mosque, and from his experience as a public official, Chaudry knew that the town, which prided itself on its quaint homes and a history dating back to colonial times, was resistant to new development of any kind. But this was a house of worship, and he was someone well-known to the community. Its not that I was expecting any favours, Chaudry said. I expected them to be fair. What shocked him, though, was the hatred.
That was seven long years ago, before some townspeople formed a group calling for responsible development in furious opposition to the mosque, before the 39 planning board hearings, before the mosque was rejected, before Chaudry filed a lawsuit alleging religious prejudice, before his lawyers uncovered racially charged emails among officials opposed to his plan, before the Obama administration accused the town of civil rights violations, before national rightwing activists took notice of the dispute and began smearing Chaudry as a terrorist sympathiser, and before Trump dragged anti-Muslim conspiracy theories from the disreputable fringes into the White House. Today, Chaudry knows his town and America better.
Long before Trump came along to capitalise on it, though, Islamophobia was building in the US, bubbling up like swamp gas from the depths. Often, racial conflict would manifest itself in small, seemingly isolated local planning fights over proposals to build mosques. The US Department of Justice, which staunchly defended the rights of Muslims during the Obama administration, noted a sharp increase in such mosque disputes between 2010 and 2016. Many took place in conservative locales such as rural Murfreesboro, Tennessee. But they also broke out in unexpected places such as Basking Ridge: a wealthy and well-educated community in the outwardly tolerant north-eastern US.
Basking Ridge is governed by a five-person elected committee, which meets in a repurposed Tudor-style mansion. (It previously belonged to John Jacob Astor VI, an American aristocrat whose father perished on the Titanic.) One evening last year, I attended a meeting the first of many at the town hall, where the committee members sat on a long dais, discussing their usual business, such as preparations for an upcoming celebration of the signing of Basking Ridges royal charter, in 1760. When the meeting was opened to comments from the public, however, all anyone wanted to talk about was Chaudry and the mosque.
The neighbours near this proposed mosque did not sign up to live next to this house of worship, said one resident, who broke down sobbing as she spoke. They have been members of a quiet residential neighbourhood for decades, and do not look forward to having their routines and lives disrupted.
The residents said the mosque would create traffic and commotion, and would ruin their property values. But they also complained about the tactics Chaudry had employed in his bitter court battle. One middle-aged woman gestured toward the mosque opponents in the audience, saying that many had been subjected to a hateful harassment campaign by the Islamic Societys attorneys, who had served them with subpoenas seeking the contents of their personal email and social media accounts, in an effort to prove that they were motivated not by planning concerns, but animosity toward Muslims.
Mr Chaudry has waged an expensive PR campaign that has talked about people as if theyre bigots, the woman said. And personally, I think it is the ISBR group that has been bullying and bigoted. Then she invoked Trump, the inescapable presence. They talk about our current president and how he speaks about Muslims. Well, I find ISBRs rhetoric to be just as harmful.
Finally, Loretta Quick, a schoolteacher who lived next door to the mosque site, got up to speak. She was one of the neighbours who had come to Chaudrys initial open house years before. She had even voted for him, back when he was a politician. Now she was a die-hard enemy of the mosque. If you cave, she told the board, in a furious voice, youre saying that we are bigots, that we based the decision on discrimination against Islam.
Quick was one of those who had been served with a subpoena, and was being represented by the Thomas More Law Center, an advocacy group that claims its mission is to defend Americas Judeo-Christian heritage and moral values against forces waging a Stealth Jihad to transform America into an Islamic nation. Quick referenced a recent press release the Law Center had put out, which had plucked a few verses from a searchable English translation of the Quran that could be accessed on the ISBR website Fight and slay the Pagans wherever ye find them, etc to suggest that Chaudry was somehow in league with religious extremists.
These are words that seem quite intimidating and threatening to me, Quick said. I want to be protected, and you owe that to me, this township and this nation.
---
How did a small-town property dispute turn into a religious war, with legal and symbolic implications for all of America? Part of the answer has to do with the countrys labyrinthine land-use laws, which leave most control to state and local governments, which are in turn vulnerable to the furies of angry mobs. Part of it has to do with Americas love of litigation. The inherently confrontational and intrusive legal process had a radicalising effect on the town, driving some opponents of the development to extremes.
But something else deeper and darker seemed to be at work. Some residents openly discussed Islamophobic conspiracy theories, such as the idea that the mosque was meant to send a message of conquest, due to its proximity to the towns September 11 memorial. Such crackpot notions, promoted by far-right ideologues such as Pamela Geller and Frank Gaffney, used to be confined to the margins of the internet. Then Trump embraced the Islamophobes, unabashedly.
Its like his election has given permission to people, Chaudry told me the first time we met. We were at the proposed site of the mosque, sitting in the old suburban house that he was still hoping to demolish. Its living room, dominated by a large stone fireplace, was filled with boxes of donated clothes that he was preparing to deliver to a family of Syrian refugees. The many bookshelves were lined with theological texts and stacked copies of a paperback that Chaudry likes to give out, Islam Denounces Terrorism. Standing on an easel in a corner was a poster-sized rendering of the proposed mosque. In an effort to make it fit into its suburban surroundings, it had been designed to resemble a mini-mansion, with gray clapboard siding, a pitched roof with asphalt shingles, dormer windows and minarets disguised as chimneys.