The long read: Italys CasaPound has been central to normalising fascism again in the country of its birth. Now theyre trying to enter parliament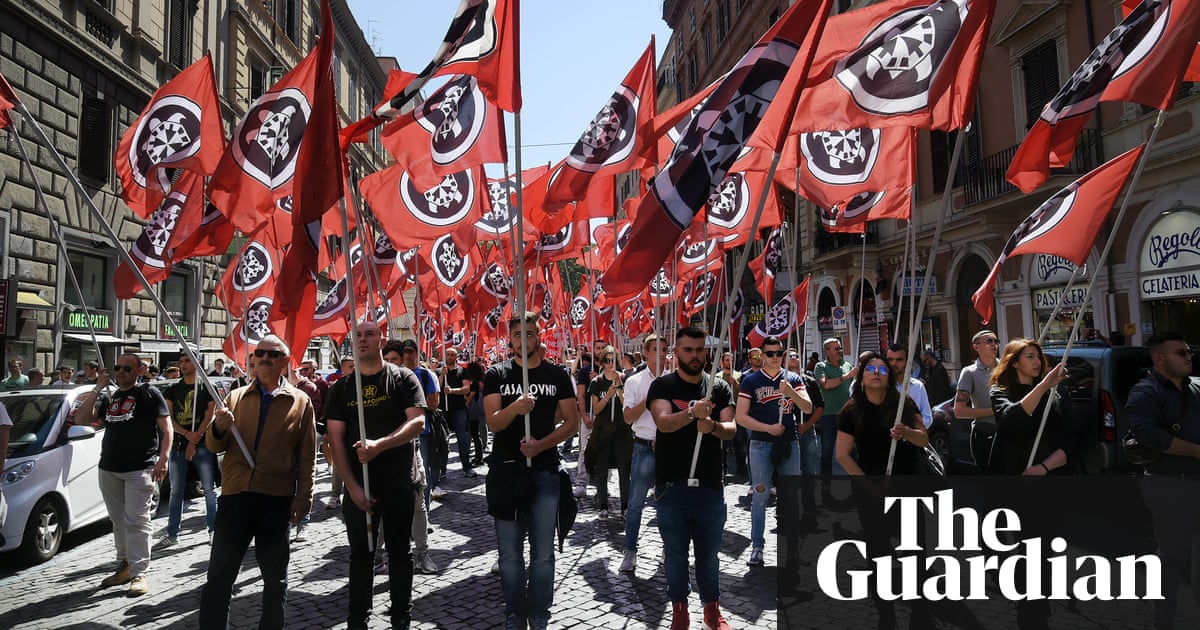 On the night of 27 December 2003, five men broke into a huge, empty office complex in Rome, just south of the citys main railway station, Roma Termini. A few days earlier, the men had put up fake fliers, appealing to the public for help to find a lost black cat called Pound. It was a way to avoid suspicion as they surveyed the building before breaking in.
Nothing was left to chance: the date, between Christmas and New Year, was chosen because there wouldnt be many people around. Even the name and colour of the cat wasnt casual: Pound was a nod to the American poet and fascist evangelist Ezra Pound. And black was the colour associated with their hero, Benito Mussolini. They planned to start a radio station from inside their new building called Radio Bandiera Nera Black Flag Radio.
The man giving orders that night was Gianluca Iannone. Then 30, he was tall, burly and brusque. With his shaved head and thick beard, he looked a bit like a Hells Angel. He had me ne frego (I dont care the slogan used by Mussolinis troops) tattooed diagonally across the left side of his neck. Iannone was famous in fascist circles as the lead singer in a rock band called ZZA, and as the owner of a pub in Rome, the Cutty Sark, which was a meeting point for Romes extreme right.
The five men were nervous and excited as they took turns working on the wooden front door with crowbars. The others gathered close by, to watch and to provide cover. Once the door gave, they piled inside, pushing it shut behind them. What they found was breathtaking. There was a large entrance hall on the ground floor, a grand staircase, even a lift. There were 23 office suites in the seven-storey block. The previous occupier, a government quango, had moved out the year before, so the place was freezing and damp. But it was huge, covering thousands of square metres. The cherry on the cake was the terrace: a large, walled roof from which you could see the whole of Rome. The men gathered together up there and hugged, feeling that they had planted a flag in the centre of the Italian capital in a gritty neighbourhood, Esquilino, which was home to many African and Asian immigrants. Iannone dubbed their building the Italian embassy.
That building became the headquarters of a new movement called CasaPound. Over the next 15 years, it would open another 106 centres across Italy. Iannone, who had been in the Italian army for three years, described each new centre as a territorial reconquest. Because every centre was self-financing, and because they claimed to serve the people, those new centres in turn opened gyms, pubs, bookshops, parachute clubs, diving clubs, motorbike clubs, football teams, restaurants, nightclubs, tattoo parlours and barbershops. CasaPound suddenly seemed everywhere. But it presented itself as something beyond politics: this was metapolitics, echoing the influential fascist philosopher Giovanni Gentile, who wrote in 1925 that fascism was before all else a total conception of life.