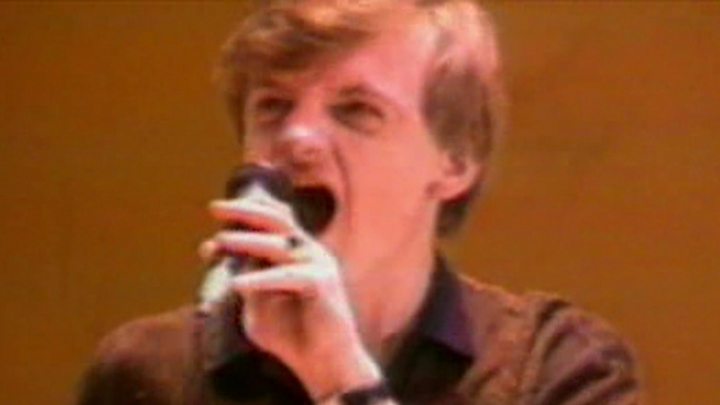 Mark E Smith, the distinctive frontman of Manchester post-punk band The Fall, has died aged 60.
Pam Van Damned, the band's manager, said he died at home on Wednesday morning and a more detailed statement would follow "in the next few days".
Paying tribute, Smith's former bandmate Marc Riley said the singer "taught me a lot about life and he taught me a lot about music".
Smith famously hired and fired more than 60 bandmates.
Riley, now a radio DJ, was on air on BBC 6 Music when the news broke. The pair had a tumultuous relationship – as was the case with Smith and many of the musicians who passed through The Fall's ranks.
"Aged 16 he really did teach me so much," Riley told listeners.
"The Fall were my favourite band when I joined and they were still my favourite band when I got kicked out."
The band's manager added that Smith's had requested "privacy at this sad time".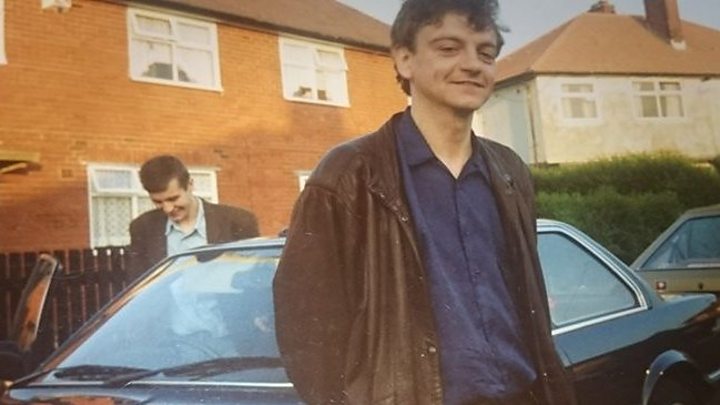 Championed by BBC Radio 1's John Peel, The Fall had 27 songs in the top 100 of the UK singles chart between 1984 and 2004.
There's a Ghost in My House was their highest entry at number 30 in 1987.
Smith's distinctive Mancunian drawl, which featured in his music, also took centre stage when he read out the football scores on the BBC in 2005, after one of his tracks was used to introduce them.
British rock's cult hero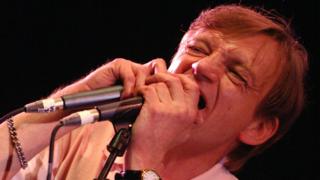 By Ian Youngs, arts and entertainment reporter
Mark E Smith, the snarling singer and single-minded leader of Manchester post-punk group The Fall, was a rock hero whose drinking and fighting – as well as his ragged but rare musical artistry – became the stuff of legend.
Over the past 40 years, great bands have come and gone. Musical trends have waxed and waned.
But The Fall – basically Mark E Smith and whoever he hadn't fallen out with at the time – remained belligerently immoveable as the unfashionable but unshrinking mob in the shadows of the music scene.
In that time, he hired and fired more than 60 bandmates and released 30 albums of music that normally featured frayed, repetitive guitars and Smith's caustic stream of semi-consciousness.
His pronounced sing-slur made him unlike any other frontman, and he inspired devotion among fans who were drawn to his singular presence and rambling poetry.

Born into a working-class family in Broughton, Salford, Smith grew up in Prestwich, and worked first in a meat factory and then as a shipping clerk on the Manchester docks.
In 1976, inspired by a Sex Pistols gig, he quit the docks for The Fall.
Simon Wolstencroft, who was the band's drummer for 11 years, told the BBC Smith was a "funny guy" and "very intelligent".
Smith's ex-wife and former band member Brix Smith Start thanked well-wishers for their messages and said she was just "taking the news in".
Singers Lisa Stansfield and Billy Bragg paid tribute to Smith saying a "cultural icon" had died.
BBC 6 Music's Lauren Laverne said Smith was "untouchably cool" and Charlatans singer Tim Burgess said he was "a true uncompromising musical maverick".
BBC Radio 2 presenter Jeremy Vine tweeted: "Mark E Smith – one of the greatest rock stars ever produced by this country.
"The last time I saw The Fall, in 2017, he felt unwell on stage and sang all the songs from inside his dressing room."
Shaun Of The Dead director Edgar Wright said: "Not merely a legend of indie music, but someone who, for me, was a gateway into that very genre."
<figure class="media-landscape" no-caption body-width">

Last year, Smith reacted to the news the BBC had mistakenly announced his death. In a Guardian interview, he said: "It was stopped in minutes by Fall fans. I was still ill around that time but was starting to feel better and somebody comes in and says, 'By the way, you're dead.'"
<figure class="media-landscape" no-caption body-width">

What are your memories of Mark E Smith? Did you meet or work with him? Did you see him in concert? Please share your stories with us by emailing haveyoursay@bbc.co.uk.
Please include a contact number if you are willing to speak to a BBC journalist. You can also contact us in the following ways:
WhatsApp: +447555 173285
Tweet: @BBC_HaveYourSay
Upload your pictures / video here
Send an SMS or MMS to 61124 or +44 7624 800 100
Read more: http://www.bbc.co.uk/news/entertainment-arts-42811968