Final show for the pachyderms comes after local government actions made touring with the animals difficult, as activists herald victory for animal rights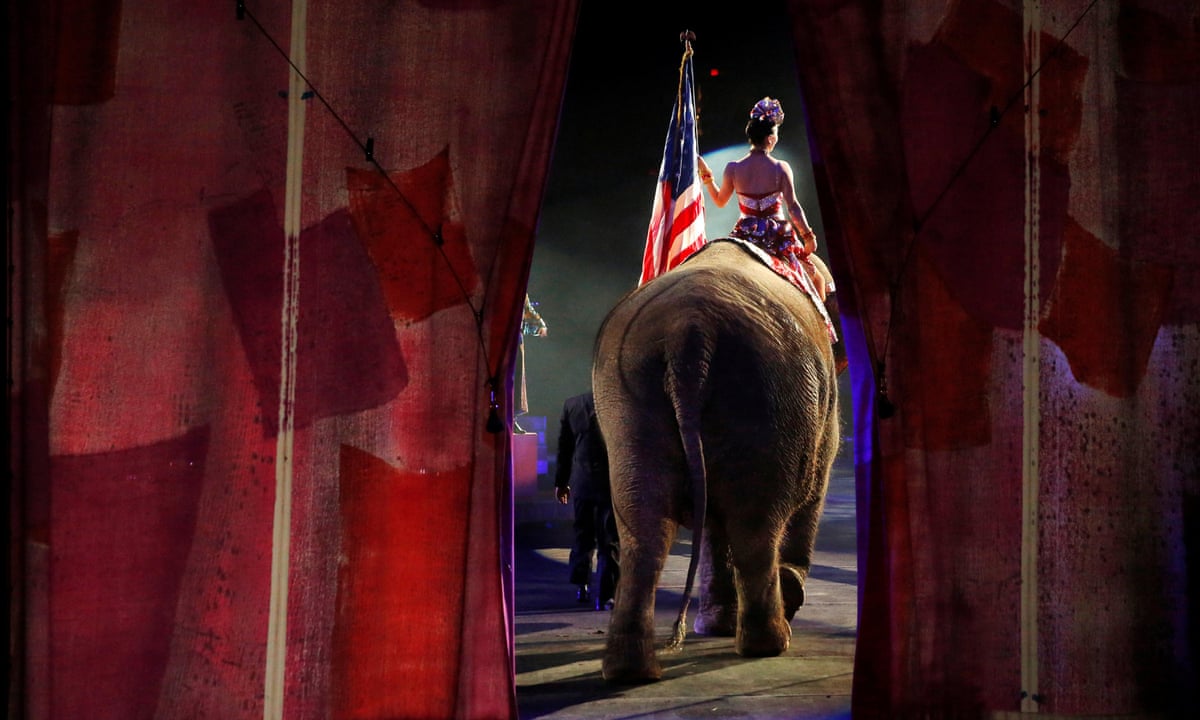 After the last-ever circus to feature elephants, capping 145 years of elephant shows and decades of pressure from animal activists, two professional clowns walked into a bar to reflect on the state of the circus industry.
Its the end of an era, said Crickett McGrath, sipping a gin and tonic. Its older than baseball.
And Coca-Cola, added Anthony Hoang.
Feld Entertainment, the production company behind Ringling Bros and Barnum and Bailey Circus, has retired its elephant herd and discontinued the act. Sunday evenings show in Providence, Rhode Island, was a formal farewell to the practice that McGrath called the hooks on which a circus is hung, paraphrasing PT Barnum.
Feld is retiring eleven animals in total, after five others performed their final show in Pennsylvania on Sunday.
In Providence, Kellyann, a four-ton Asian elephant renowned for amusing her fellow entertainers with rude noises by pressing her foot to her trunk and emitting air, took her final bow along with five other females. The elephants stood on their hind legs, feigned sleep and spun on circular podiums, shorter than the elephants are wide, dancing to choruses of This is the greatest show on earth!
Feld Entertainment has fought lawsuits against animal rights groups in the past. In 2014, it won a $16m settlement, and in 2011 the USDA fined it $270,000 for Animal Welfare Act violations after Mother Jones reported the elephants spent most of their lives chained, were often whipped with bullhooks, and were left in cages full of feces.
None of the efforts of animal rights groups appeared to have any direct impact on the circus until last year, when local governments began taking action. Los Angeles and Oakland both banned the use of bullhooks, short hooked poles used to train and instruct elephants; and Asheville, North Carolina, banned performing elephants at the 7,600-seat US Cellular Center.
The bans put limitations on the circuss ability to tour. In an interview on the Ringling Bros elephant conservation website, Kenneth Feld, the companys CEO, also cited a shift in the publics attitude toward touring wild animals. Earlier this year, SeaWorld banned the breeding of captive orcas.
The companys response to criticism seemed to be written into the show script Sunday night. We have the healthiest, happiest and most physically fit herd in the world! boomed ringmaster Johnathan Lee Iverson, as a half dozen female elephants strolled into the arena in a neat line, trunk grasping tail.
The audience burst into applause, peppered with the excited screams of children, twirling an assortment of plastic light-up toys.