Following Trumps win, one KKK chapter announced plans for a victory parade in North Carolina. But where was it going to be, and who might turn up? Dave Eggers joined the protestors playing cat-and-mouse with white supremacists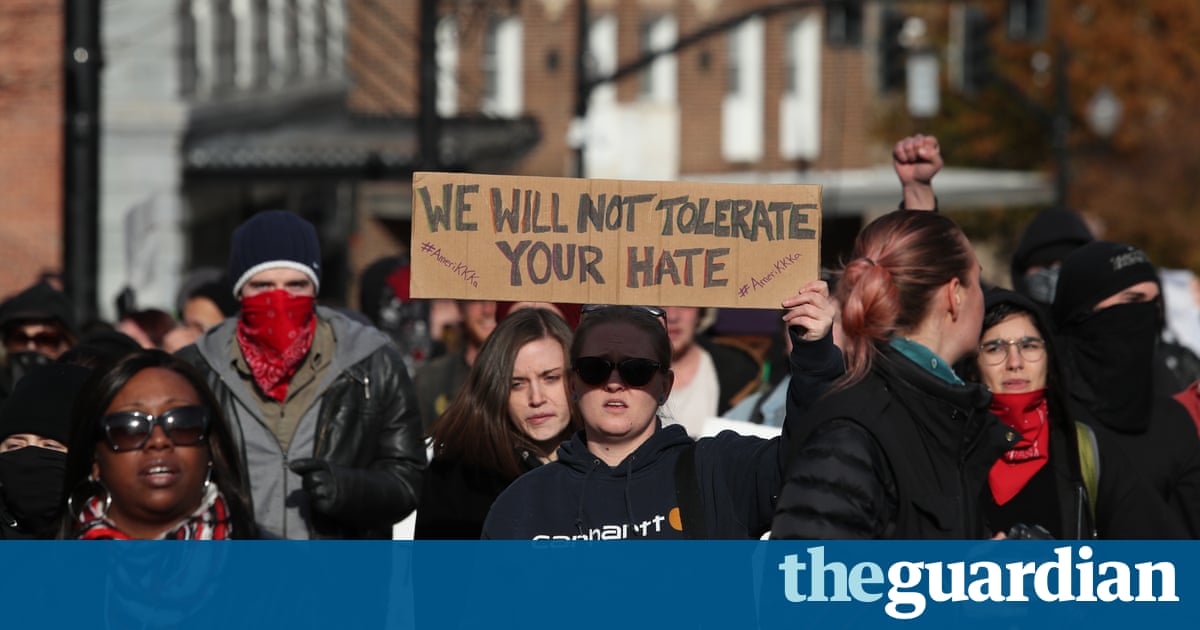 No one knew much, but the crowd was growing. We were at the rest stop off Highway 29 between Eden and Pelham, where North Carolina meets Virginia, and everyone was looking for the Ku Klux Klan. It was 8.40am.
The day after the election of Donald Trump, the Loyal White Knights of Pelham, a chapter of the KKK with a suitably unhinged website, had announced that they would be holding a victory parade on 3 December. In the weeks since, there had been no word on the Knights website or anywhere else about when or where the parade would be.
But the initial declaration was perhaps the most dramatic manifestation of what we might call the New Emboldening a coast-to-coast rise in everyday American racism and bigotry spurred by the rhetoric and election of a billionaire who had taken swipes at certain Mexican-Americans and all Mexicans, certain women and all women, certain Muslim-Americans and all Muslims, all African Americans and all immigrants.
In the month after the election, the Southern Poverty Law Center had tracked more than 900 incidents targeting non-whites. A Muslim college student in Ann Arbor had been told, by a young white man, to remove her hijab or he would light her on fire. At a Utah high school, two Mexican-American sisters were told by their white classmates, You get a free trip back to Mexico. You should be happy.
The idea of a Klan rally in this kind of atmosphere was potentially explosive. The KKK had demonstrated a year earlier, in Columbia, South Carolina, and the results had been ugly. Three hundred Klan members had been there. The New Black Panthers had countered with 400 of their own members. In all, there were 2,000 protesters. There were cops in body armour. Ripped Confederate flags. A grandmother with a bloody nose. A Klan member, trying to flee in his vehicle, ran into a lamppost.
This 3 December parade, then, coming after Trumps election and during this New Emboldening, had the potential to be far worse. The promise that the parade was coming was a blight on the soul of the nation; the vast majority of the country, whether they supported Trump or not, dreaded it. There is no more wretched and horrifying segment of the American people or history than the Klan, who in their darkest years had lynched black men and women and had terrorised anyone who wasnt white or Christian. At their height, in 1924, the Klans membership was 4 million. In 2016, estimates put their strength at no more than 8,000.