In spite of showing up to class hungover after dollar beer nights almost every week, you still made it to graduation. Congratulations betch, youre about to leave the best time of your life and just be in the rest of your life. Before you join the real world and have to make small talk with Annie from sales every Monday morning in the office kitchen, you need to enjoy your summer after graduation by some much needed traveling. So after you throw that cap up and attend approximately sixty graduation parties, go explore (aka get drunk in) these cities and celebrate never having to write another paper again.
1. Thailand
If only you could get free miles for every time you order pad thai, you could get a free trip to Thailand. Chances are this isnt a place you studied abroad in, so its the perfect candidate for a post-grad trip. The Full Moon Party is an all-night party on an island that every visiting foreigner is going to be at. Its like the Coachella of Thailand, but with more neon and less cultural appropriation. Well, actually we cant promise the last part, because there will be Aussies there and theyre unpredictable.
2. Road Trip Across The U.S.
This is perfect if youre already moving to a new city, because youre going to have to move your shit somewhere anyway. Road tripping across the U.S. is something you thought about since you saw Britney in and honestly its worth doing. Just make sure you get a good enough group together so you have someone to switch off driving with you. Plus the more rural you get the cheaper alcohol is. Bring a polaroid camera to get some IRL Instagram photos. Wait, are those just called photos? *stares off into space for 20 minutes* Also, youll be surprised how fun thrifting is in small towns, and youll be able to pick up some dope clothes and finally get rid of your Forever 21 shit from college.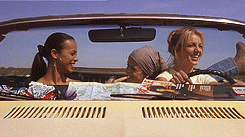 3. Berlin
Berlin is like the nice guy we friendzoned in freshman year and then got super hot when he started working out. Like, we imagine its a chill city but now its one of the best places to be as a young adult. Everyone speaks English so you can get by without doing much work, and people are friendly to Americans. People love getting naked in clubs, but not in the creepy way. Plus people judge you for having your phone out at bars, which means you can actually have a good time off-line and be present in the moment or whatever my mom is constantly yelling at me to do.
4. Australia
Before you have to think about the answer to the whats next question, get on a plane and get as far away from your anxiety about the future as you possibly can. Australia has hot people, beaches, and adorable koalas. Everyone in Australia is constantly traveling outside of Australia, so you might as well return the favor. Plus even if you dont land the jobs you want, getting bad news while learning to surf from an instructor named Monty isnt such a bad thing.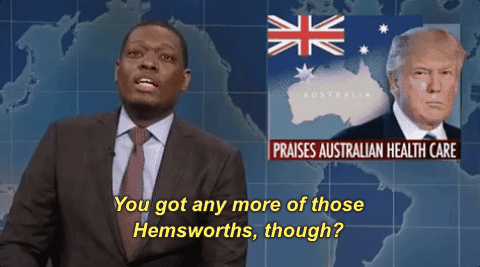 5. Iceland
If you dont want to spend money before you actually start working full-time, we got you. Iceland is between Europe and the U.S. and its always cheap to fly there. You probably know it from every Instagram models page ever, but you can swim in the Blue Lagoon and who knows, maybe youll get a new Linkedin headshot out of it. Sure, youll be dressed completely inappropriately but at least everyone will know youre adventurous. Iceland is a beautiful place and cheap to visit, which is perfect for your uncertainty about your future.
6. New Orleans
Take a graduation trip to New Orleans, trust us. If we had to describe New Orleans wed say its the back tattoo of the South, but like in a good way. NOLA knows how to party. Its a great place if you want to celebrate but still feel like an adult. Like, youve graduated from making out with randos in Mexico on Spring Break, and now youre meeting strangers while surrounded by a ton of culture and great music. Plus the next time you come back it will probably be for your bachelorette party and thats not going to be the same. Also Beyonc filmed all of there so you can hit up all the spots and pretend to be Bey even more than you normally do.
7. Amsterdam
Amsterdam is like the Vegas of Europe with less wedding chapels. Everything looks like its taken straight out of a Snow White storybook, so when you get high on the (legal) brownies, you can actually feel like youre a princess from a fairytale. Unfortunately if youve got drug tests for your jobs you might want to skip the coffee shops here, but also you could just pass your drug test and then take a quick vacation before starting work. Plus you can bike everywhere here, which means you can work off whatever remaining Freshman 15 you still have on you.
Read more: http://www.betches.com/7-post-grad-vacations