Approximately 525 years ago, an Italian polymath named Leonardo da Vinci completed a pen and ink drawing called "The Vitruvian Man." The piece depicts a nude man in two superimposed positions, inscribed in a circle and a square. Inspired by the work of an architect named Vitruvius, Leonardo created the piece as a manifestation of the ideal human body, the principal archetype of proportionality.
Fast forward to 2016, when Leonardo's iconic contribution to the fields of art, science, mathematics and the place where the three intersect will be honored in the most dream-like of ways. In the middle of Nevada's Black Rock City, approximately 70,000 people will join together to burn the Man to the ground.
That's right, this year's Burning Man theme is Leonardo da Vinci's Workshop, paying homage to the artist and his crew who transformed 15th- and 16th-century Florence through ingenuity, creativity and crazy skill.
Over 300 artists have registered to bring their most surreal, hallucinatory and utopian Leondardo-inspired visions to life on the large-scale stage that is the playa. There are giant butterfly sculptures. There are floating LED dancing women. There are most certainly breathing robot alligator puppets.
We've rounded up 12 of the projects most likely to make Leonardo say, "Whoa, what?" Each artist or artist collective contributed a brief description of their project, along with a quote describing how the piece taps into the overall spirit of Burning Man. Take a look below.
1. FLOCONS
by Anna-Gaelle Lucy Marshall and Dusty Visions (Portland, Oregon)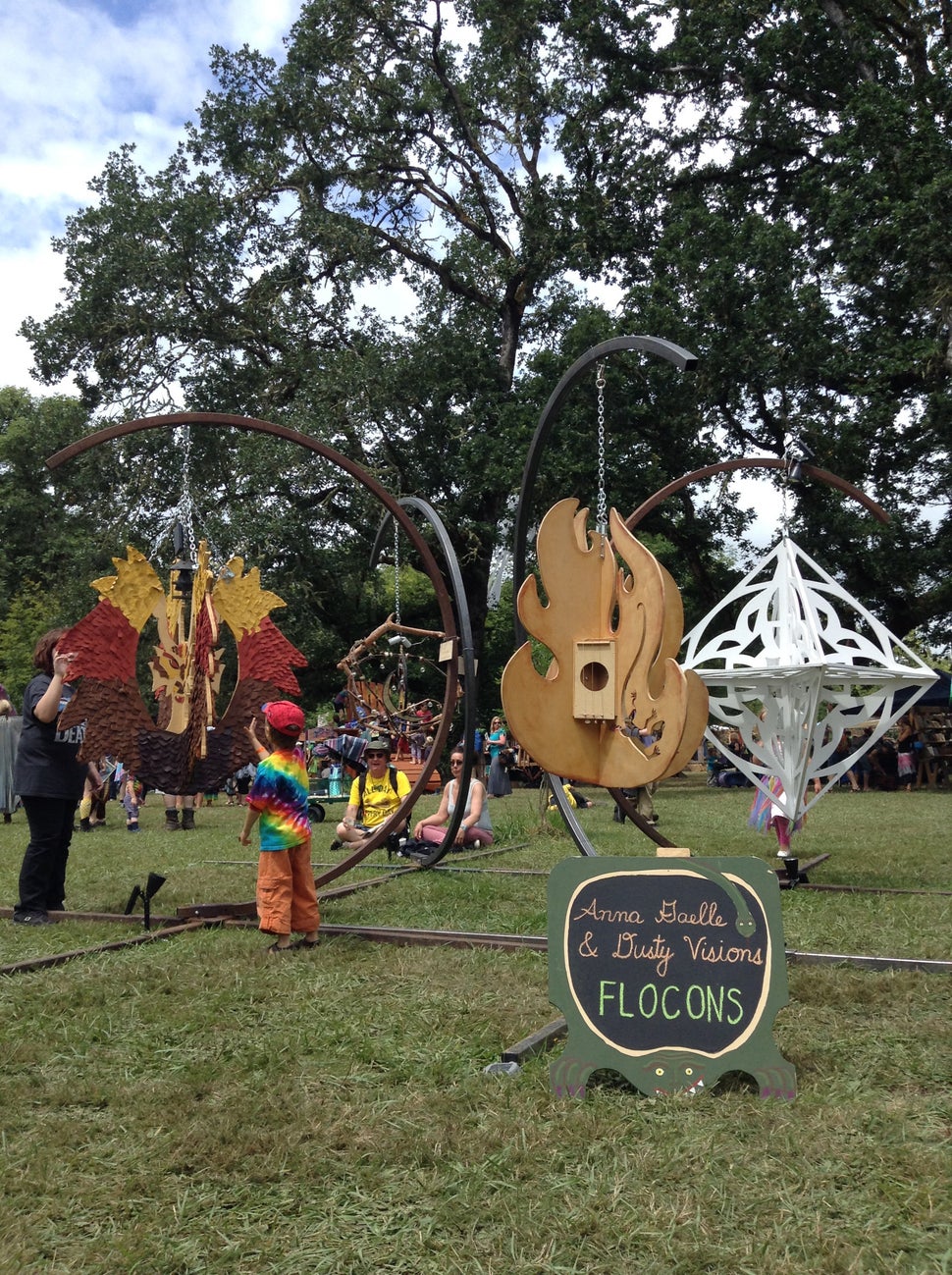 Project description:
"'FLOCONS' is a dynamic and evolving series of large-scale, ornament-like sculptures, imagined and built by a collective of artists to be displayed in a garden-like manner. [It] is a shared creative experience in participatory art that displays the beauty of human collaboration and communal effort. As participants approach the series, they will find a collection of large free-floating sculptures, each as unique as the artists who created them."
Why it captures the spirit of Burning Man: "We believe in the positive impact of community-driven participatory art projects and seek to support the creation of pieces that can involve a wide variety of individuals and groups from concept to completion. 'FLOCONS' was designed as a dynamic and evolving series; the metal hangers providing a blank canvas for endless creative expression in a unique format that is transportation-friendly, allowing for multiple displays year-round."
Learn more about "FLOCONS" here and support the project on IndieGogo here.
2. Firmament
by Christopher Schardt (Oakland, California)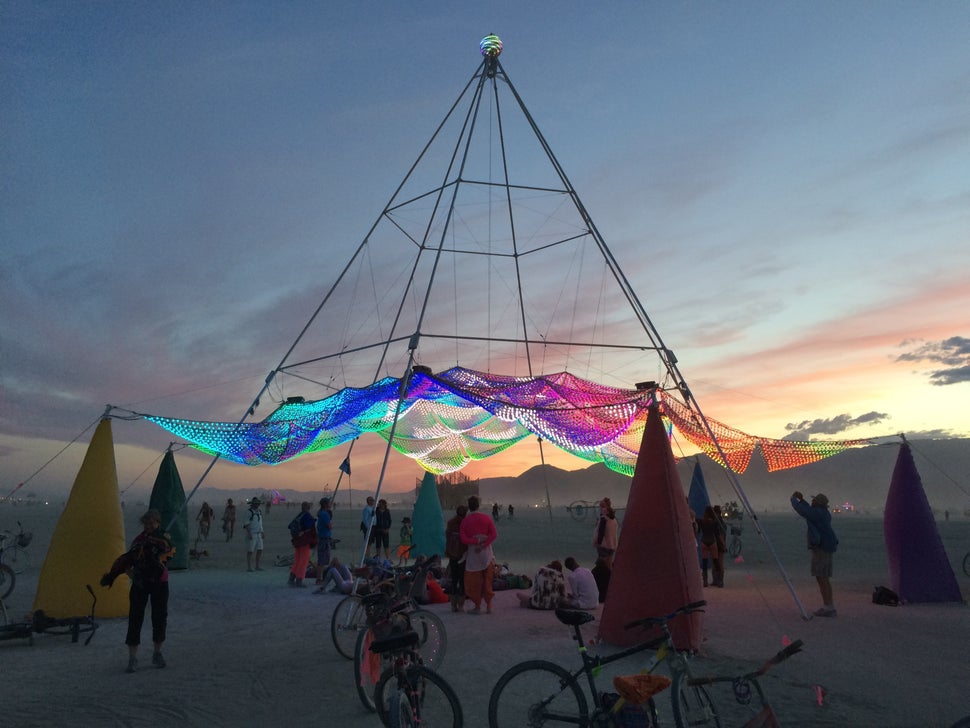 Project description: "A vast, overhead canopy of LEDs displays celestial, playful, psychedelic, majestic images while classical music emotionally supports an enveloping, comforting, communal environment below."
Why it captures the spirit of Burning Man: "'Firmament' captures an aspect of Burning Man that is increasingly hard to find. It is an oasis of calm in a sea of thumping art cars, a place of beauty rather than spectacle. Thousands of people lie under it every night, enjoying the flowing visuals and peaceful music as long as they like, before returning to the cacophony that is Burning Man at night."
Learn more about "Firmament" here.
3. Mechan 9
by Tyler Fuqua (Eagle Creek, Oregon)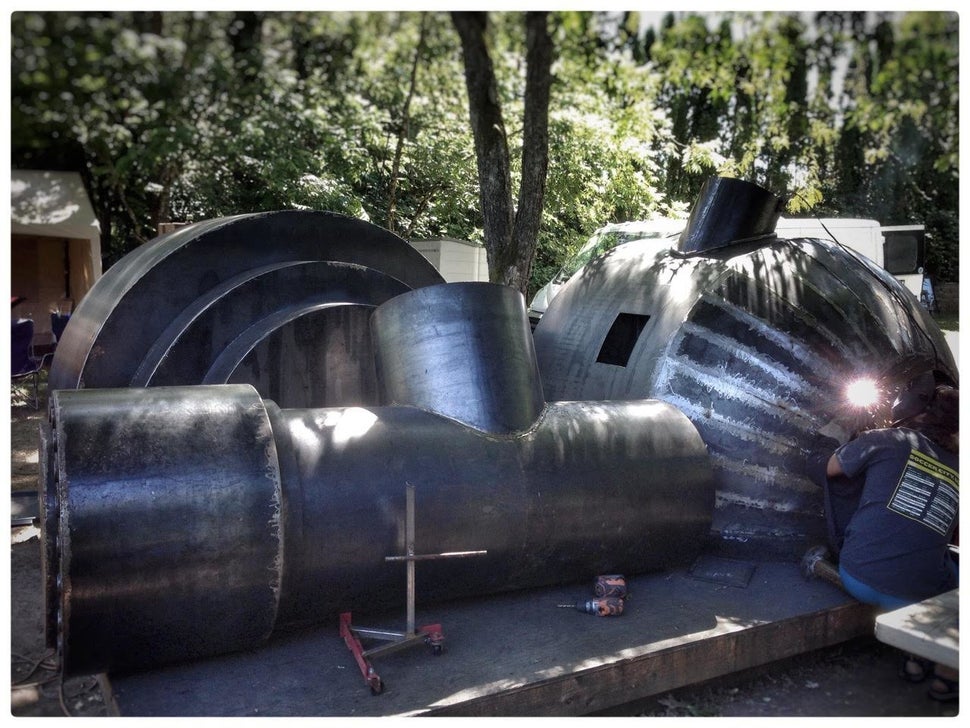 <
div class="content-list-component" text">
Project description: "'Mechan 9' is a giant fallen robot that is half-buried in the ground. How he got there, and why he fell in the desert, and most importantly, who built him, can all be revealed if you decode the strange text that is on his body using a special decoder. (A decoder sticker found in a hatch on his head.) The clues will take you on a treasure hunt all over the city where you will learn the history of 'Mechan 9' along the way. The robot is over 30 feet long and can be climbed upon. In fact, you HAVE to climb on him to see the secret of his heart chamber!"
Why it captures the spirit of Burning Man: "Burning Man is about discovery. Discovery of one's self, discovery of new people, and discovery of amazing art. 'Mechan 9' captures that spirit by inviting people to decode a strange text and discover the mystery of the giant robot. Who knows what else you will discover on your adventure to unravel the secrets of 'Mechan 9'!"
Learn more about "Mechan 9" here.
4. Electric Renaissance (A Tribute to Cadillac Ranch)