The Grammy winner sang directly to the Democratic presidential nominee as they talked police killings and implicit bias on her new Apple Music show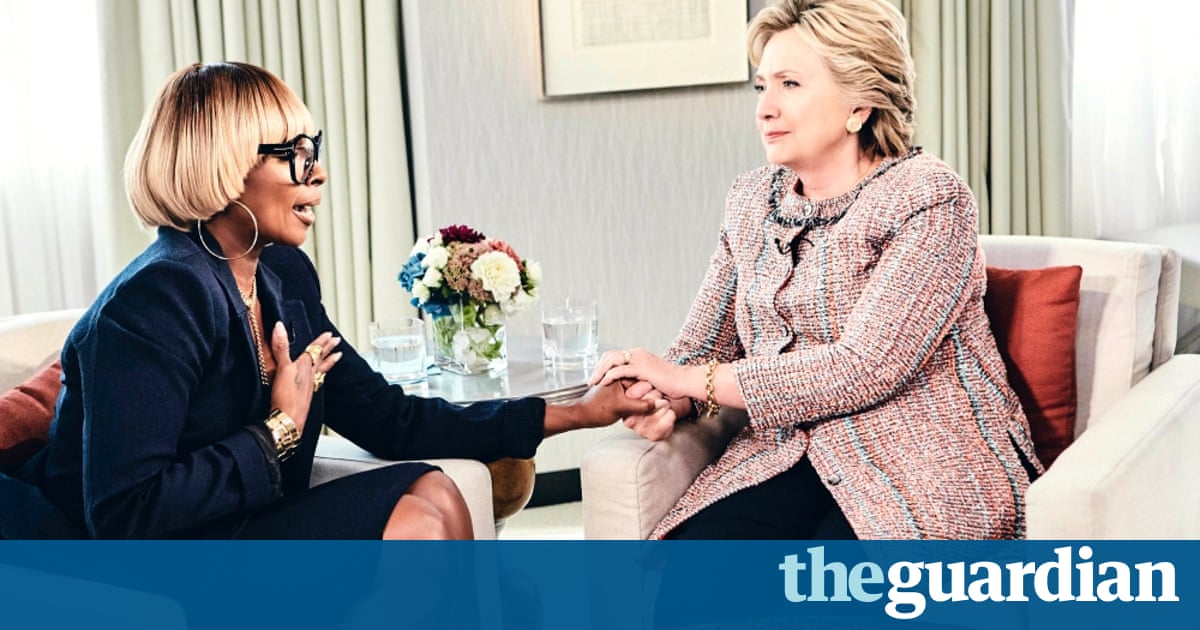 If its an unnerving experience to have nine-time Grammy winner Mary J Blige close her eyes and sing directly to you about police violence from just a few feet away, Hillary Clinton didnt show it.
Clinton is the first guest to appear on the hip-hop soul singers new show The 411 with Mary J Blige a reference to her 1992 debut album now streaming on Apple Music, and its definitely a little different from a typical presidential nominee interview.
May I call you Hillary, asked Blige, who had been calling her Secretary Clinton earlier in the interview.
Yes, you may, replied Clinton.
OK Hillary, I want to share something with you I havent shared with anyone, declared Blige, announcing that she was going to sing her a song: Bruce Springsteens 41 Shots, written about Amadou Diallo in 1999, an unarmed black man who was killed by four NYPD officers.
It means a lot to me just because of everything thats taking place now, said Blige, a reference to the recent high-profile examples of unarmed black men and women who have been killed by police.
I just want to share it with you because believe that so many women, African American women, feel like this when theyre sending their children off to school in the morning, Blige said.
Blige closed her eyes, and started singing to Clinton, who initially had on her best poker face.
The lyrics are incredibly relevant after the deaths of Terence Crutcher in Tulsa, Alfred Olango in San Diego and 13-year-old Tyre King in Columbus, Ohio all unarmed black males shot and killed by police in the last two weeks.
If an officer stops you, always be polite / And youll never ever run away, promise mama youll keep your hands in sight / Is it a gun, is it a knife, is it a wallet, is it your life, sang Blige.
As Blige sang about black people getting killed by police, she reached out and held Clintons hand.
A preview published on social media made the singing look cringe-worthy, with viewers noting Clintons ability to remain diplomatic in uncomfortable situations.
But actually the moment felt heartfelt and potent (OK and still a touch awkward), with a black woman singing about black deaths by police to someone who could be the next leader of the free world. Clinton seemed genuinely emotional, sighing Oh Mary, oh Mary, at the end of the song.

Where do we go from here? What is the first thing you would do to begin the healing process with all this? Blige asked.
The pair continued to hold hands, all four hands entwined together almost like they were in prayer.
I have been so heartbroken over whats been going on because its fundamentally at odds and wrong that African American parents have to sit their children down and deliver the message you just sang, Clinton responded.
Clinton mentioned implicit bias during the debate, noting implicit bias is a problem for everyone, not just police. Although he didnt disagree at the time, Donald Trump brought it up at a rally this week, saying that asserting Clinton accuses the entire country including all of law enforcement of implicit bias, essentially suggesting that everyone, including our police, are basically racist and prejudiced.
I think weve got to be honest that there needs to be a greater opening of our hearts to one another, put ourselves in each others shoes, feel the pain that a mother and a father feel when their son and daughter can go out the door and they dont know whats going to happen to them, Clinton said. I particularly want white people to understand what thats like and to feel that they must be part of the solution.
Clinton spoke about needing to train police in better de-escalation techniques and to really address implicit bias so that a young black man walking down the street is not a threat, hes a young black man walking down the street, she said.
Seems that singing really touched a nerve. Ive been interviewed so many times, nobody has ever sung in the middle of the interview. That was so touching to me. Obviously the issue, the subject is so profound but just doing it was so moving to me, thank you, added Clinton, who looked like she might cry.
Blige asked if Clinton thought it was hard for a woman to be both tough and likable.
Yes, replied Clinton instantly. I think its really hard, to be honest with you, its really hard, she said, dissolving into laughter.
I dont know why its so hard. I think its rooted in tens of thousands of years of how peoples lives have been defined, what its meant to be a woman or a man and how society was organized. For women to be assuming leading roles in business or entertainment or politics or whatever it might be, its still not fully understood because theres no blueprint for doing it, Clinton added.
And it turns out its not so hard to get your hands on Hamilton tickets if youre famous, Clinton revealing she had seen the musical four times. She revealed the soundtrack was a regular on her playlist.

Its just a work of genius. Its obsessing me right now. Thats my number one go-to, she said.
The pair also chatted about the impact of Clintons mother on her life she named her and Nelson Mandela as her personal heroes and the role of religion in her life. Being a person of faith has sustained me over the course of my life, she said. They also talked about what its like to be famous and handling criticism.
The public eye has a way of magnifying things that arent important and dismissing things that are, Clinton said.
Wow, replied Blige, whos currently going through a high-profile divorce.
At the end of the interview, the pair hugged and thanked each other repeatedly. That was so emotional! Clinton quipped.
Read more: https://www.theguardian.com/music/2016/sep/30/mary-j-blige-411-hillary-clinton-apple-music