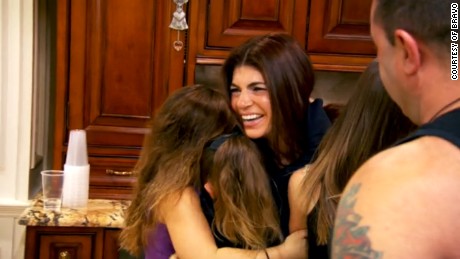 (CNN)Teresa Giudice returns home on Sunday's season seven premiere of Bravo's "The Real Housewives of New Jersey."
The reality TV star, who served nearly one year in federal prison for financial fraud crimes, allowed cameras to film her tearful reunion with her family.
<
ul class="cn" cn-list-hierarchical-xs cn–idx-4 cn-zoneadcontainer">
"It felt like 'what is going on?' I'm hearing my lawyer on a walkie-talkie. I had the paparazzi driving up on the side," Giudice described the experience to CNN. "I felt like I was in a movie and here I am playing this person."
"The past season has been very dark," Giudice continued. "I wanted to share this with the world so everyone can see that we go through these hard times in life. We all have to. No one has a perfect life. There's always a light at the end."
Although Giudice said she was relieved to get back to her family, she developed friendships while she was incarcerated. "A few girls and I did become really close. They are there for you during a difficult time in your life. I was sad I left them behind," Giudice said.
But as RHONJ viewers will see, Giudice quickly jumped back into her role as mom to her four daughters Gia, 15, Gabriella, 11, Milania,10, and six-year-old Audriana. "The day I came home it felt like a dream, 'Am I really home?' But it was like I never left," Giudice said.
Filming for the show's seventh season has wrapped. Giudice said she is adjusting to being a single mom while her husband, Joe Giudice, now serves his 41-month federal prison sentence for fraud. She told CNN she drives to see him once a week and they exchange between 10 and 20 emails a day.
"I'm coping the best I can. Listen, I love my husband." Giudice continued, "Unless you walk this path, unless you know all the pieces to the puzzle, no one can judge. He's an amazing man. He didn't mean for any of this to happen."
Giudice is known for her bold personality and occasionally short temper on the show. (Who can forget her infamous table flipping incident in 2009?) But she says viewers will be seeing a much calmer version of her this season.
"I think I've changed…I've grown from doing yoga. I'm very zen now."
Read more: http://www.cnn.com/2016/07/10/entertainment/teresa-giudice/index.html