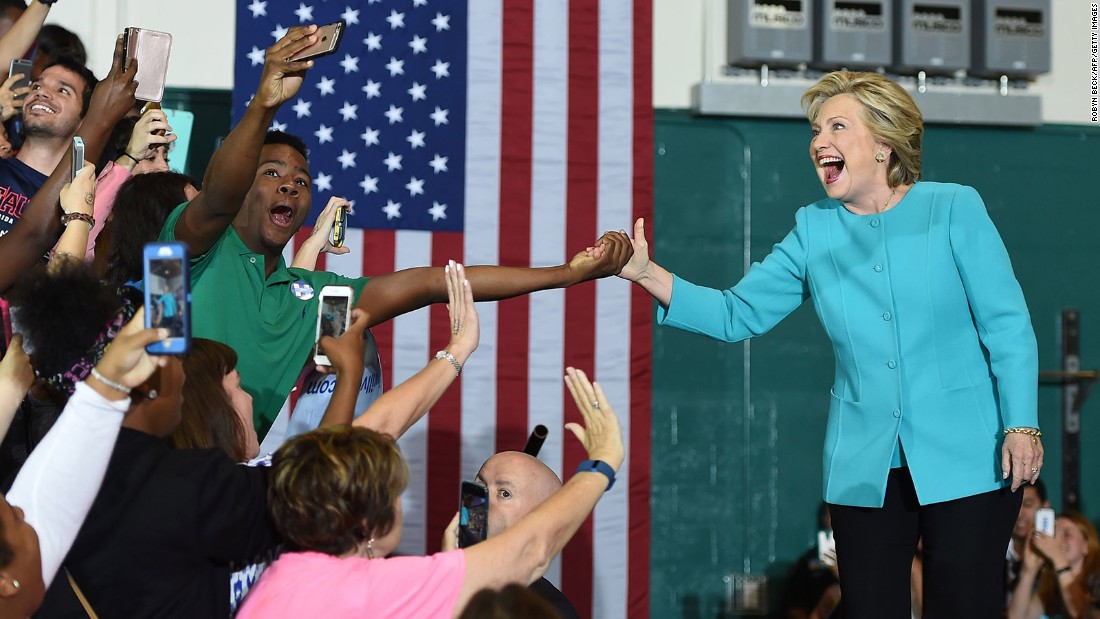 Tampa, Florida (CNN)Hillary Clinton was already in a pretty good mood by the time a gymnasium full of supporters started serenading her with a birthday song Wednesday afternoon.
In the last 24 hours, Clinton has been offered beer-soaked donuts for breakfast and a bottle of birthday tequila, attended an Adele concert and suggested that the best cure for a divided country was a national dance party. Before boarding her campaign plane earlier in the day, Clinton paused when reporters on the tarmac inquired about her birthday.
<
ul class="cn" cn-list-hierarchical-xs cn–idx-4 cn-zoneadcontainer">
With her arms stretched out in front of her, Clinton, 69, shouted back with a smile: "Great! Great!"
Less than two weeks out from Election Day, a famously guarded candidate is showing a looser and lighter version of herself — a side of the Democratic nominee that has been largely elusive during a long and contentious campaign.
Clinton's sunny disposition over the past few weeks coincides with her growing confidence about her odds against her opponent, Donald Trump. Aides describe to CNN a fresh boost of energy as Clinton heads into the final stretch of the campaign with a lead in the polls and unburdened by the pressure of debates and fundraisers.
During a taped radio interview with Univision Tuesday morning, the hosts offered Clinton what they described as "donuts dipped in tequila and beer."
She responded, "Can you put a little chocolate dusting on it?"
Things got more festive later in the day when Clinton sat down for an interview with El Gordo y La Flaca and was offered a plate of cookies and a bottle of tequila for her birthday. Clinton closed the show by doing an awkward half-dance with "El Gordo," the show's portly host.
To cap off a busy day, Clinton made a surprise stop at a sold-out Adele concert — a last-minute decision that her spokeswoman, Jennifer Palmieri, said was Clinton's "gift for herself" to see one of her favorite artists. Clinton went "wild" when the popular singer told the audience not to vote for Trump, according to another aide.
"She has been tracking Adele's tour very closely," Palmieri told reporters the next day. "Anything I know about Adele — I know from Hillary Clinton."
Even as Clinton has exchanged harsh words with her opponent on the campaign trail, she has also been taking in the more upbeat moments of the election.
Her aides have been keeping her abreast, for example, of the various 2016 spoofs on "Saturday Night Live." The morning after the first episode of the new season aired, traveling press secretary Nick Merrill described aboard the campaign plane actress Kate McKinnon's impersonation of Clinton — including McKinnon taking the stage by leaning on a cane, only to roll into a somersault.
"Oh, that's good," Clinton said, clapping her hands.
And when a man named
Ken Bone
— with his now-famous red sweater, black-rimmed glasses and earnest demeanor — emerged the surprise sensation at this month's town hall-style presidential debate co-hosted by CNN's Anderson Cooper, Clinton was "tickled" by Bone's revelation the next day that he had ripped his olive suit, aides said.
The upbeat mood is in stark contrast to earlier in the campaign, when cheery moments were few and far between. Weighed down by persistent questions about her use of a private email server and a strong primary challenge from Bernie Sanders that was followed by a tight race against Trump, Clinton spent months avoiding her traveling press corps.
But in recent weeks, Clinton has pulled ahead in national polls and made gains in key battleground states, all as her opponent has been besieged by a string of controversies. When her campaign began to fly reporters on the same plane as the candidate last month, Clinton became more accessible to the press, regularly taking questions.
Clinton is the first to acknowledge that she is hardly a natural politician.
She has said publicly that she lacks the natural charisma of President Barack Obama or her husband, Bill Clinton.
In one hacked email recently released by WikiLeaks, Neera Tanden, Clinton's longtime adviser, appeared to suggest in summer 2015 that the candidate throw a party for her staffers to give the media fresh images of Clinton "letting loose."
"And if some staff take pictures of her with a beer and letting loose to some music — that end up going viral and eventually on tv — so much the better," Tanden wrote.
Speaking at the Alfred E. Smith charity dinner in Manhattan earlier this month, Clinton joked about the perception that she is boring.
"I'm not boring at all. In fact, I'm the life of every party I attend," Clinton said. "And I've been to three!"
Read more: http://www.cnn.com/2016/10/26/politics/hillary-clinton-election-2016/index.html