<figure class="media-landscape" no-caption full-width lead">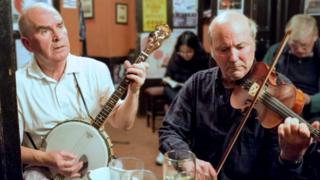 Image copyright Sandy Bell's
The Scottish Government has published a bill outlining provisional plans for another referendum on Scottish independence, plans which some believe coincide with a renewed sense of Scotland's separate identity.
There are pubs where they play music and then there are pubs where music takes a more prominent role. Sometimes, however, there are pubs where drinking seems almost a sideline to the main business of musical appreciation.
Walking into Sandy Bell's in Edinburgh, you feel it sits very firmly in the latter category. Long a focus for the Scottish traditional music scene, recent years have seen more performances, bigger audiences and some very talented players. And as far as many are concerned, that tells you something about Scotland today.
"There's more pride in Scotland generally," says Archie, a smiling accordion player from Skye. "You'll get pubs that used to be trendy pubs, with CDs playing, and now they have folk music sessions."
<figure class="media-landscape" no-caption full-width">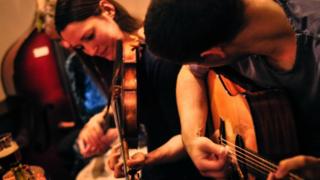 Image copyright Sandy Bell's
For Sam, who plays violin, it's a particular source of pride that so many visitors from abroad now seem captivated by the melodies of her native land.
<
div id="bbccom_mpu_1_2_3″ class="bbccom_slot" mpu-ad" aria-hidden="true">