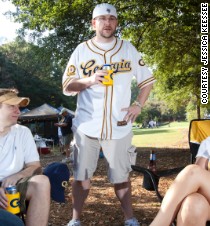 (CNN)At any given Ole Miss home game, longtime tailgater Keith Henley lays out pewter serving trays and chafing dishes. Under the cover of two 10-by-20-foot tents in the wooded center of his alma mater's campus, known as The Grove, Henley busies himself with the service. At the same time, his brother and stepbrother fill it with exquisite dishes of wild boar loin or grilled elk wrapped in bacon with cream cheese.
They bring along a generator so the flat-screen television and lamps work. The tables are covered in cloths embroidered with "Hotty Toddy" and finished off with elaborate centerpieces full of flowers — sometimes augmented by Jack Daniels bottles glued to wooden dowels. They'll taste bourbon balls from their tailgating neighbors, with whom they've long exchanged Christmas cards.
<
ul class="cn" cn-list-hierarchical-xs cn–idx-4 cn-zoneadcontainer">
Rivalries are top of mind for college football fans around the country. While athletes work hard to prepare for their final games of the season, some of their fans are just as focused on preparations for the big tailgate. For them, the communing crowd of friends and family is just as important as watching the game.
"It's like a huge family reunion," Henley said of Ole Miss' tailgating scene. "When I was growing up in the '70s and '80s, family reunions were really special. On Easter, everyone dressed up and had fun. It was a special time of the year. I think tailgating in The Grove is like that; it's a special time of year."
<
div class="el__storycontent" el__storycontent–standard">Don't miss out on the conversation we're having at CNN Living. Follow us on Twitter and Facebook for the latest stories and tell us what's influencing your life.