<figure class="media-landscape" has-caption full-width lead">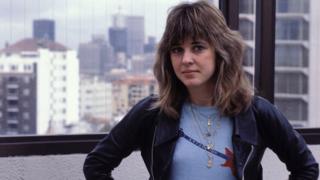 Image copyright Getty Images

Image caption The singer scored 18 hit singles in the UK
It all began with the bongos.
As a seven year-old in 1950s Michigan, Susan Kay Quatro would sit with her father's jazz band, the Art Quatro Trio, playing percussion and getting an early education in stagecraft.
But her life changed when she saw Elvis and the Beatles on television.
Grabbing the Fender Precision Bass her father had loaned her, she started a band with her sisters Patti and Arlene.
The Pleasure Seekers' early singles, especially Never Thought You'd Leave Me and What A Way To Die, are still sought after by garage rock collectors – and the band soon found themselves sharing the bill with fellow Detroit rock stars Iggy Pop and Alice Cooper.
<div id="bbccom_mpu_1_2_3″ class="bbccom_slot" mpu-ad" aria-hidden="true">