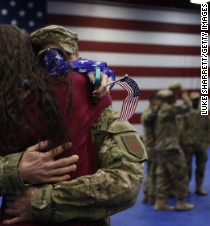 (CNN)When people choose to serve in our armed forces, it's not just a day job. It's a way of life that affects the whole family.
Children of veterans and those still serving face a unique set of challenges. When your parents are in the military, you don't live in places, you're stationed. And your parents don't go on business trips, they're deployed. Many also return home with both visible and invisible wounds of war.
<
ul class="cn" cn-list-hierarchical-xs cn–idx-4 cn-zoneadcontainer">
Every family has a story and a unique set of circumstances, but there are simple ways you can support them and, in turn, support all men and women in uniform. First, you can say thank you and recognize their sacrifice. Then, think local, in your own neighborhood. Offer to mow the lawn for a family, babysit or just a call to check in. Small actions can make a big impact for a family struggling on the home front.
Several organizations are also focused on assisting military families and you can get involved.
Battalion Buddies — When Mom or Dad wears combat boots, sometimes what a child may need is a hug or at least something to hold. Operation Gratitude has a program called Battalion Buddies that provides special stuffed toys to the sons and daughters of U.S. military personnel as their units get ready to deploy. You can also write letters to the families and children.
Read more: http://www.cnn.com/2015/11/09/us/iyw-supporting-military-kids/index.html