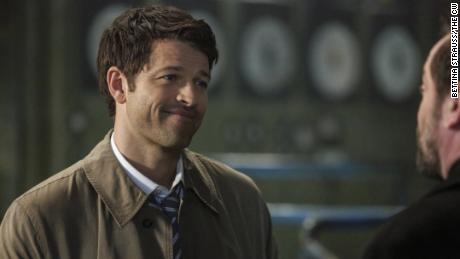 (CNN)The work of a TV angel is seemingly never done.
On the CW's "Supernatural," Misha Collins' heavenly character possesses the ability to make the impossible happen. Thanks to his annual worldwide scavenger hunt, the same can be said about the actor himself. Of course, he has help from tens of thousands of his closest friends.
<
ul class="cn" cn-list-hierarchical-xs cn–idx-4 cn-zoneadcontainer">
Saturday marks the end of the Greatest International Scavenger Hunt the World Has Ever Seen — an event that Collins started five years ago to bring the show's passionate fandom together to raise money for his charity Random Acts. They also have a little fun, too.
"As we as a society have evolved, we have developed this dichotomy where we think that having fun is one thing and doing good is another — that they're somehow mutually exclusive," Collins told CNN in a recent interview. "A big part of [our] message with GISHWHES and with Random Acts is that doing good not only can be — but should be — both gratifying and fun and potentially ridiculous and maybe embarrassing."
As in the past, the hunt challenges teams with creative and often off-beat tasks that range in difficulty. For example, one item this year asked teams to create shoes out of hollowed out pineapples. Another asked them to apply for and receive legal status or citizenship in a micronation.
Other items aim to mobilize the participants in more political ways, like helping people register to vote.
Oscar-winning actress Hilary Swank helped write an item that asked teams to take photos at the gravesites of loved ones who've died from smoking-related illnesses and tweet them to Republican vice presidential nominee and Indiana Gov. Mike Pence with #quitblowingsmokeabouttobacco.
Pence wrote an
opinion piece
in 2001 when tobacco legislation was being debated in Congress in which he stated "smoking doesn't kill."
Former Vermont Gov. Howard Dean
criticized
Pence's claim recently during his speech at the Democratic National Convention.
Hesitant as he was to "wade into the political fray," Collins said the issue was important enough to them to take a stand.
"At some point I think it becomes a civic responsibility and I think Pence and Trump crossed that threshold," he said. "So I am happy to put them in the GISHWHES crosshairs."
And crosshairs they are. Passionate scavenger hunters have ruffled a few feathers this year. When he asked participants to surprise his mother with in-person birthday wishes, he assumed a "trickle" of people would appear. Over 150 people showed up.
Collins said he's also received calls from a few overburdened space agencies asking him to remove an item asking teams to send a letter to space. He did not remove it.
"I am still surprised," Collins said of the power of GISHWHES. "We are being forced to be increasingly cautious about it. But I still want to have fun."
The money raised by Random Acts goes toward funding small projects across the globe with partner organizations, as well as the construction of a school in Nicaragua.
As part of the hunt, the team that accumulates the most points will join Collins for a trip to Iceland. The rest, simply bask in the glow of their good deeds and bizarre memories — which Collins said is also a win.
"I think being silly and having fun and doing good are totally compatible."
Read more: http://www.cnn.com/2016/08/06/entertainment/misha-collins-gishwhes-scavenger-hunt/index.html