The eight-year-old actor received a heros welcome as he returned home to a slum from the Oscars. His family are dealing with the fame from his role in Lion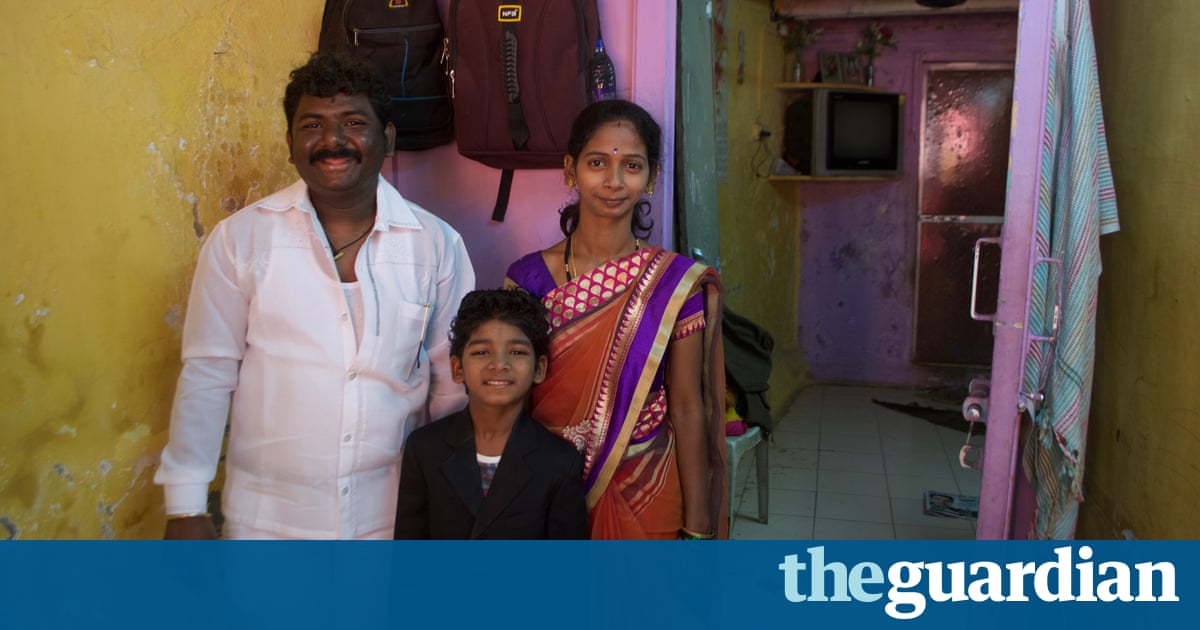 Its 11am and the Pawar family are dressed to impress. The women have put on sparkling saris and the men are in clean, ironed shirts. The man of the moment, eight-year-old Sunny, the child star of the Oscar-nominated film Lion, is inside the house, getting his face aggressively powdered by an aunt, while an uncle sprays him with perfume and adjusts his oversized jacket. Ive come at a bad time, clearly, but the family are polite enough to invite me to stay as they prepare for a photo op with a local politician.
The domestic chaos is a stark contrast to the glitzy, star-studded life Sunny has led for the past three months while touring America to promote the film. Sunny plays a young Saroo Brierley, who was separated from his biological mother aged five before being adopted by Australian parents. The film, based on Brierleys autobiography, A Long Way Home, has received international acclaim, including six Academy Award nominations and two Bafta wins.
Sitting outside his family home in the Kunchi Kurve Nagar slum near Mumbais airport, Sunny recalls being whisked around the world with an international film crew. It was like a dream, he says. Neither he nor his father had left India. First Kolkata, then Indore, then Australia and then America for three months.
The whirlwind journey ended last week after the Oscars, where a beaming Sunny was lifted into the air by the host Jimmy Kimmel, as The Lion Kings title track played in the background. Some have criticised Kimmel for using Sunny as a prop in a racist joke, but Sunny doesnt see it that way. It was fun. I loved it, he says.
Sunny and his father returned to India on a flight that landed at 2am on Wednesday. A swarm of local news crews and journalists greeted them at the airport along with a mob of relatives. He has brought a good name to our whole family, says Raviraj, a distant relative who was there. We all went and nobody knew where the arrival gate was, so all of us were squashed in that airport lift, going up and down until we found him.
They beat drums, they set off fireworks, says Dilip, Sunnys father. They brought flowers and covered him with garlands. The reporters crowded around him, Sunny look here, Sunny do this. They even came back to our house with us, and they stayed until 4am. They wouldnt leave until Sunnys grandfather shouted at them for harassing the kid, he says.
In Mumbai, home to the worlds most prolific film industry, making it into the movies is the epitome of success. Thousands of people travel to the city from small towns and villages around the country every day, hoping to be cast in a Bollywood blockbuster. But with a tightly knit, powerful film fraternity that rarely embraces outsiders, successes like Sunnys are few and precious. He was selected from over 2,000 children, says Dilip. They came to his school to do auditions, and the director says he was a natural in front of the camera.
Sunnys family are from humble origins. His father used to sweep streets, but was fired for having too many days off to take Sunny to auditions. For the past two years, he has been Sunnys business manager, touring the world and helping him practise lines on set. I never, ever thought Id reach this point in my life, says Dilip. My first son, and he has made me so proud.
The film has turned Sunny into a local hero. Posters slapped on the slums walls read: Congratulations Sunny on your achievement. Outside the house, the family have set up a stage, carpeted in red and covered in confetti left over from a welcome home ceremony. There is a floor-to-ceiling photo montage of Sunny meeting American celebrities, as well as Barack Obama and Bill Clinton.
Children from the slum who wander past after school point excitedly at the pictures, whispering, Thats Sunny meeting the Rock, referring to the WWE wrestler-turned-actor, Dwayne Johnson. All of them claim theyve watched Sunnys film, though its easy to call their bluff as none of them recognises Dev Patel, the films lead actor, who also starred in Slumdog Millionaire. He must be some singer or something, says one child. No, hes Sunnys acting coach, says another.
He was just a normal little boy, says Vasu, Sunnys mother. Now everybody says, Oh, a Hollywood star lives in our neighbourhood. Overnight, Ive become the mother of a movie star. She admits she hasnt seen the film yet. I was waiting for Sunny and his dad to come home so we could watch it together, as a family. But Im so proud.
Sunny was only five when he started auditioning for the role of Saroo. Between travelling to locations for shoots, he attends the government-run Air India Modern school where, he says, he gets none of the benefits of being a movie star. None of the kids treat me differently. Its exactly the same as before. They havent even seen the film, he says.
The role has given Sunny new ambitions. I want to work in Hollywood, Bollywood, everything, he says. Ive learned so much, like the sign language of the director for example. When he signals, I know I have to be sad, he says. Its hard work. You have to follow all their instructions and you have to try to show real emotion, from the heart.
Nobody ever taught him to act. He learned it on his own by watching TV, says Dilip. He loves watching Rajinikanth, he says, referring to a south Indian actor whose film release dates have been declared holidays by companies in an effort to avoid hundreds of staff requests for leave.
I like his action scenes, says Sunny, jumping in. I hope I can work in an action movie like that one day.
Though Dilip and Sunnys tour of America coincided with Donald Trumps arrival in the White House, they remained oblivious to rising anti-immigrant sentiment sweeping the country. We got there when Obama was still president so we didnt have any visa troubles like I know others have, Dilip says, in reference to Asghar Farhadi, the Iranian film-maker who could not travel to America to receive his Oscar because of Trumps travel ban. We did not feel for a second like foreigners there. The people there have done so much for us, says Dilip. When you go to work, they give you so much respect and love. The whole public is appreciating Sunny, they made him a suit to wear, they took him to the Oscars. They treated us like we were members of their family, really. There was no question about race or religion.
Despite their new fame, the family still live in their same small house. I ask naively to see Sunnys bedroom. Dilip laughs. This is chawl, madam. There are no bedrooms here, he says, referring to labourers accommodation. He shows me a brightly coloured room with peeling paint and bare walls, except a Ganesh-themed calendar. Here we roll out mattresses and sleep.
Outside, in a metal cupboard, the family keep their valuables. Perfumes and jewellery are pulled out, tested and replaced, as they rush to get ready to visit the local politician who has asked to meet Kunchi Kurve Nagars new star. I ask how many people live under the same roof. Its our whole extended family, Dilip says. Ive never counted but it must be more than 50 of us.
Sunnys family were initially reluctant to let him work in the film. One of Sunnys aunts had cancer, she was very sick. At that time, we were trying to sort out all his passport, visas, so he could travel. Then she died, and in our tradition, you have to spend a month in mourning. So we were going to pull out of the whole thing, Dilip recalls. I had told the producers no, we cant come. But then the family really supported us. They said, no you have to go, its such a big opportunity for Sunny. And he really wanted to do it. So we went.
Two taxis pull up outside the house and the family pile in. The politician is waiting, one relative says, hinting that our interview has concluded. I ask Dilip what he plans for Sunnys future, and whether he will go back to work. Lets see, he says. For now, all our days are filled with doing interviews and meet-and-greets. Sunny will go back to school, he will take his exams. But maybe he will get more film work. Who knows? We havent planned anything.
Read more: https://www.theguardian.com/world/2017/mar/04/lion-sunny-pawar-hero-return-mumbai-child-star