<figure class="media-landscape" no-caption full-width lead">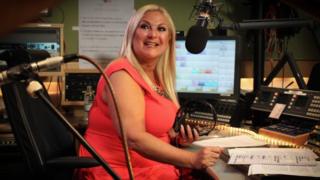 Vanessa Feltz has said she felt "extremely upset" by a Sunday Times column which suggested she and Claudia Winkleman earned high salaries because they were Jewish.
The BBC presenter described the piece by Kevin Myers as "so obviously racist it's surprisingly hurtful".
She also questioned how no-one at the paper appeared to spot the article.
Editor Martin Ivens said the piece, which was in the Irish edition and online, should not have been published.
Speaking on BBC Radio London where she presents the breakfast show, Feltz said: "I would have thought after all these years I'd be immune or used to it, but that's not at all how I felt. I felt extremely upset.
"The apologies are all very well but how did it end up in the paper in the first place?" she added.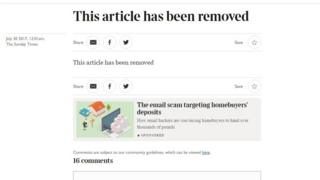 The column, titled "Sorry, ladies – equal pay has to be earned", follows criticism of the BBC, after it was revealed two-thirds of its stars earning more than 150,000 are male.
Commenting that two of the best-paid female presenters, Winkleman and Feltz, were Jewish, Mr Myers wrote: "Good for them.
"Jews are not generally noted for their insistence on selling their talent for the lowest possible price, which is the most useful measure there is of inveterate, lost-with-all-hands stupidity."
Times readers – who must pay a subscription to access online content – commented on the original article to express their disgust.
"The proud anti-Semitism in this column is nothing short of disgraceful. Myers must go and so must the editor who approved this piece," Alan Simpson wrote.
'Unacceptable'
The article was taken down following anger on social media and a formal complaint from the Campaign Against Anti-Semitism to press regulator Ipso.
Mr Ivens offered the paper's "sincere apology, both for the remarks and the error of judgement that led to publication".
Frank Fitzgibbon, editor of the Sunday Times Ireland, said he took "full responsibility", adding: "This newspaper abhors anti-Semitism and did not intend to cause offence to Jewish people."
A News UK spokesman said the column included "unacceptable comments both to Jewish people and to women in the workplace".
The newspaper has said Mr Myers "will not write again" for the Sunday Times.
Read more: http://www.bbc.co.uk/news/uk-40773710