Klay Thompson scored 23 points and the Golden State Warriors set an NBA playoff record with 21 three-pointers to overcome another injury to Stephen Curry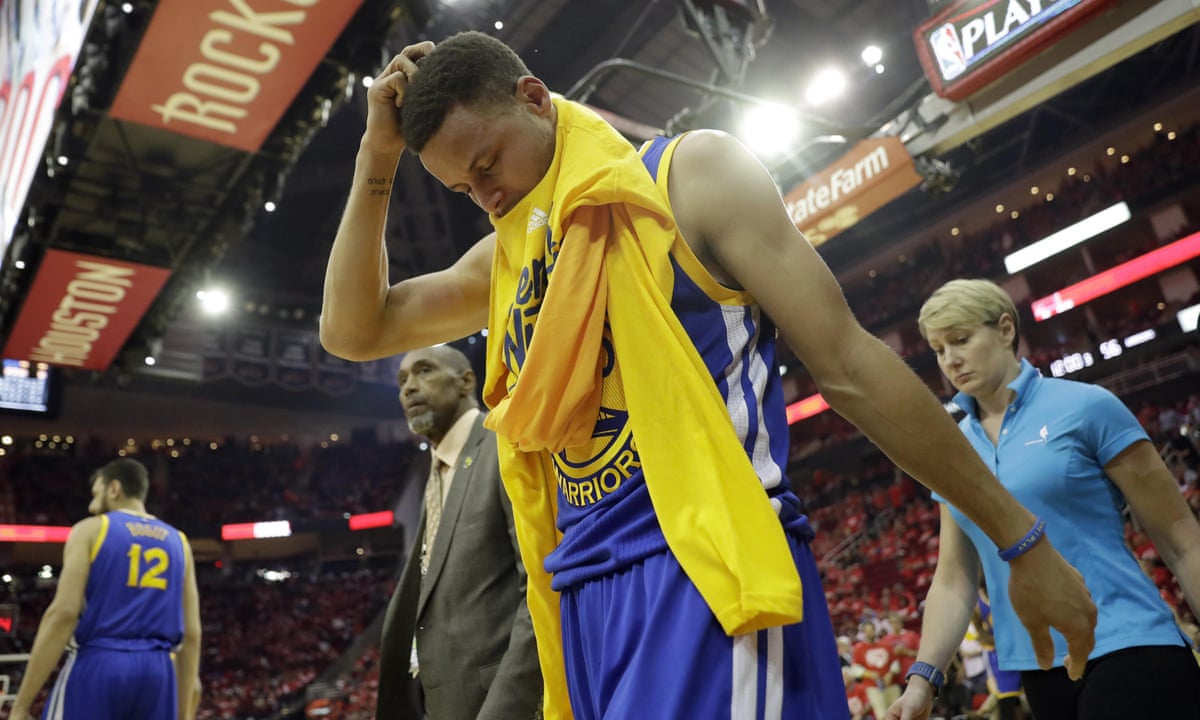 Klay Thompson scored 23 points and the Golden State Warriors set an NBA playoff record with 21 three-pointers to overcome another injury to Stephen Curry and beat the Houston Rockets 121-94 on Sunday for a 3-1 series lead.
Curry returned after missing two games with an ankle injury, but did not play in the second half after spraining his right knee on the final play of the second quarter.
Golden State were fine without him thanks to three-point shooting that led to a 41-point third quarter. The Warriors bested the NBA record they shared for threes in a playoff game when Brandon Rush made one from the top of the key in the final three minutes.
Golden State host Game 5 on Wednesday.
Dwight Howard led Houston with 19 points and 15 rebounds. James Harden had 18 points, 10 assists and seven steals.
The Warriors made eight threes in the third quarter alone to set a franchise playoff record for three-pointers in a period. Thompson led the way from long range, going seven of 11, and Draymond Green made four.
Andre Iguodala added a season-high 22 points and Green finished with 18.
Curry slid awkwardly to the court while defending on the last play before halftime and immediately grabbed his knee. He got up and looked to have trouble putting weight on it before jogging with a limp to the locker room. He came out with the team after halftime, but sat on the bench for most of the warmup time. After talking with coaches, he returned to the locker room.
The Warriors didnt miss a beat without him and led by four with about 8min 30sec left in the third quarter when they caught fire from three-point range. They made five in the next three minutes to fuel a 17-7 run that pushed the lead to 83-69. Green and Thompson made two apiece in that span and Harrison Barnes added one.
Thompson hit another three-pointer soon after that and the Warriors scored the last eight points of the quarter to lead 97-76 entering the fourth.
After his two-game layoff, Curry struggled to find his rhythm early. He was two of nine, including one of seven on three-pointers and had five turnovers before he was injured. He finished with six points.
Houston kept pace early behind dominant inside play by Howard, who had 14 points and 10 rebounds as the teams were tied at halftime.
The Warriors, who set an NBA record with 73 wins in the regular season, bounced back after Thursdays loss to avoid losing two games straight for the first time this season. They were the first team in NBA history to not lose two games in a row and also the first team to go an entire season without losing to the same team twice.
Golden State led by one after a three-pointer from Marreese Speights before Howard had three dunks in less than two minutes to power an 8-0 run that put Houston up 43-36 with less than nine minutes left in the second quarter.
Coach Steve Kerr called a timeout and Golden State scored the next five points, highlighted by Currys only three-pointer, to cut the lead to 43-41.
A 7-2 spurt by the Rockets, capped by a one-handed dunk by Harden after a turnover by Curry, made it 50-43 midway through the quarter. Houstons offense stalled after that, in part because Golden State started intentionally fouling Howard, and Golden State went on a 9-1 run to take a 52-51 lead.
Read more: http://www.theguardian.com/sport/2016/apr/24/stephen-curry-knee-injury-golden-state-warriors-nba-playoffs