In a quickly tweaked episode, Trey Parker and Matt Stone lampooned Donald Trumps victory with a frenzied summation of a strange year in politics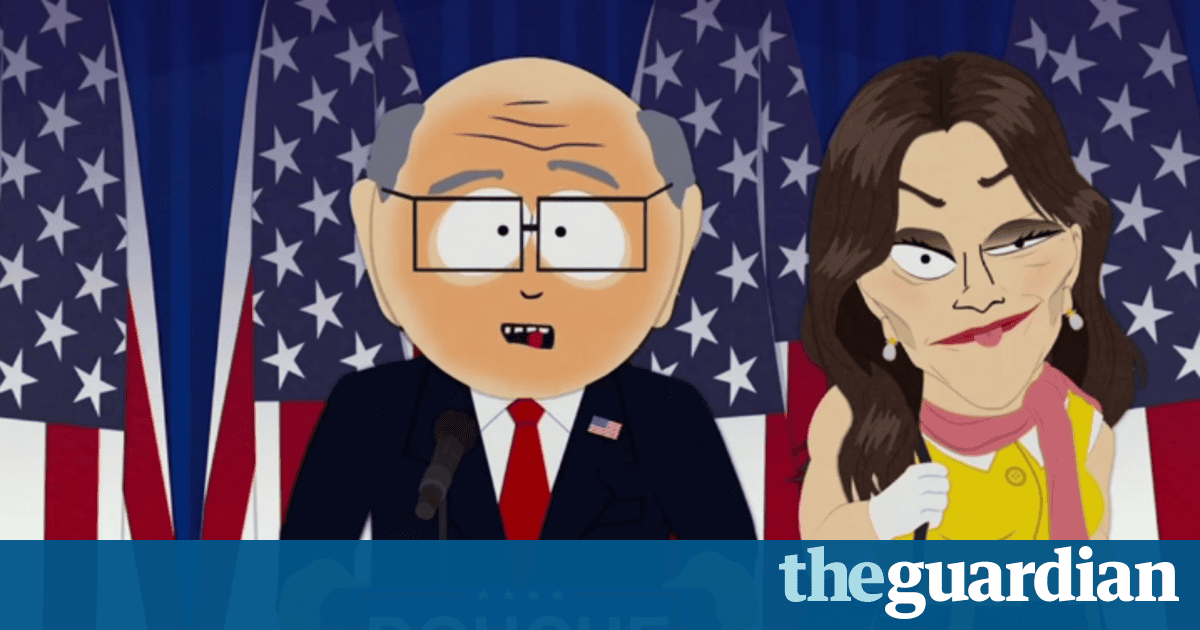 If you thought your day was ruined by the unexpected use of the phrase President-elect Donald Trump, just imagine being a South Park writer: they had to rewrite their election night episode at the last minute because it initially featured a Clinton win.
Though South Park had election-themed episodes in 2000 and 2004, the 2008 election episode was completed after the results were in. In 2012, they captured the results correctly but completed the episode in advance which, apparently, had been the plan for this years episode, necessitating the new scenes.
The episode, originally titled The Very First Gentleman and then retitled Oh Jeez, is the seventh in South Parks election-themed 20th season. It has featured the boys school teacher, Mr Garrison, newly spray-tanned and running for president with Caitlyn Jenner, trying to throw the election for Hillary Clinton by saying incredibly offensive things about everybody. Garrison and Jenner have been stymied in their efforts in part by Member Berries, talking fruit that whisper nostalgic things at those who eat them (Member when there werent so many Mexicans? they asked in the first episode; their meaning and history is explained in episode five, and they escaped an effort by Randy Marsh to destroy them in episode six) and completely mellow the consumers out to external stimuli.
There are four intersecting plot lines in the episode: the election results, the war between the towns boys and girls, Cartmans conversion to a caring boyfriend and the escalating problem with trolls.
This episode opens outside South Parks election night viewing party, where we see residents stumbling drunkenly outside and puking on the sidewalk. Inside, people watch the results with horror as a news anchor calls the election for Mr Garrison. Randy Marsh, Stans dad, runs to the center of the room and screams: What have you done? You maniacs!
Behind him, a man pulls out a handgun and kills himself.
The anchor cuts to Mr Garrisons acceptance speech, in which he says: The people have spoken. Just like JJ Abrams did with Star Wars, I will make America great again. (A running gag is that the new Star Wars reboot wasnt very good, a topic with which Randy is obsessed and Garrison had agreed, and the Member Berries often spout Star Wars trivia in between racist sentiments, as seen in episode six.)
This isnt how this was supposed to happen, Randy says, back in South Park.
All my efforts the past week have paid off, says Mr Garrison, as ominous music swells. And now lets begin fucking them all to death! (One of his campaigns central pledges, often applauded by his audiences, has been to fuck all his enemies, including immigrants, to death.)
Later in the episode, Randy pounds on Mr Garrisons door. Garrison, what the fuck have you done?! he shouts. Caitlyn Jenner answers, but Randy barges right past her. Garrison, in orange face, sits stiffly on his sofa. Garrison, do you have any idea what youve done to our country?
Yeah, Mr Garrison replies in a daze. Fucked them all.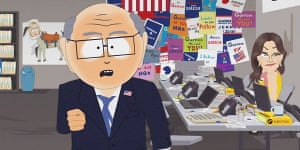 Read more: https://www.theguardian.com/tv-and-radio/2016/nov/10/south-park-spoofs-us-election-trump