The 25-year-old model and onetime Swift squad member was recently
spotted dining
in West Hollywood with Swift's mortal enemy, fellow pop star
Katy Perry
. The two were a part of a larger group, including Vanity Fair writer (and Kloss' BFF) Derek Blasberg.
Despite Kloss' status as one of Swift's close friends (remember that adorable road trip and shared Vogue cover?), being in the inner circle didn't save Kloss from the wrath of millions of angry fans.
As soon as word (and photographic proof) got out that Perry and Kloss were together, Swifties started flooding Kloss' Instagram account with rat emojis.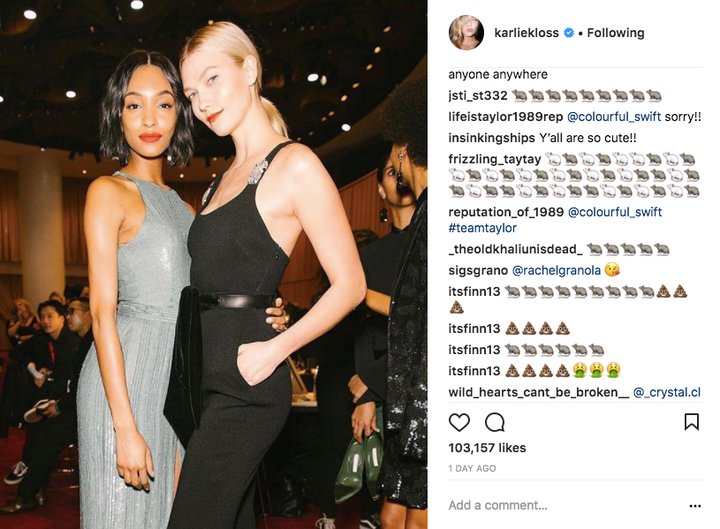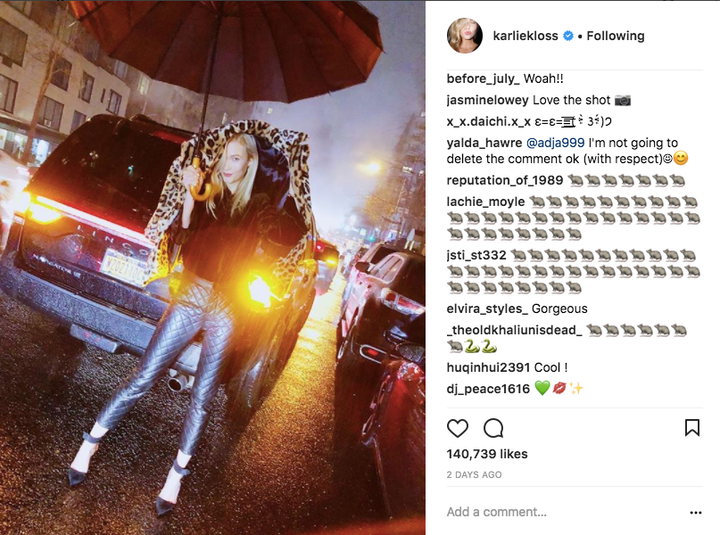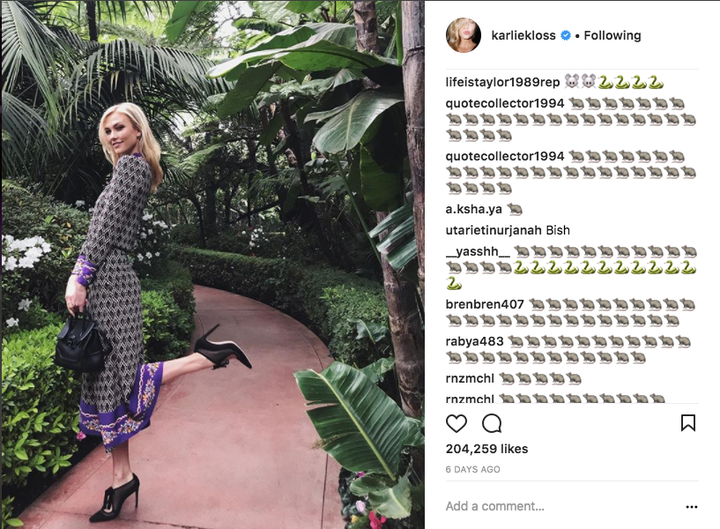 Some
are convinced
that Kloss and Swift are no longer good friends. Back in August 2017, Swift
apparently
left the model's name off of a shirt she wore in a music video that included all of her former squad members.
A few months later, Kloss Instagrammed and tweeted out a video with the caption "Swish Swish," an apparent reference to Perry's response track to Swift's "Bad Blood."
Neither Kloss or Swift have commented on the matter, though the model did send out this tweet amid all the dinner date drama:
The whole emoji feud is a bit like Kim Kardashian and TSwift's "Famous" fight all over again. Back in 2016, Kardashian exposed Swift by releasing a recorded phone call after the singer claimed she didn't approve Kanye West's lyrics about her in his song "Famous."
The reality star leaked Swift and West's recorded phone call on her Snapchat account, which showed the singer's conversation with West. Swift's fans promptly trolled Kardashians social media accounts with rat emojis.
The beauty mogul's loyal fans retaliated by flooding Swift's social with snakes ― which eat rats for breakfast. It all came full circle when Swifties used the snakes against Kim K in 2017, after the release of Swift's single "Look What You Made Me Do," (which included a LOT of snake references).
When will the emoji wars end?
Kloss sits on the board of advisers to Oath, HuffPost's parent company.
<
div class="app-download-interstitial" hidden js-app-download-interstitial bn-app-download yr-app-download" data-block-class="app-download-interstitial">