<figure class="media-landscape" has-caption full-width lead">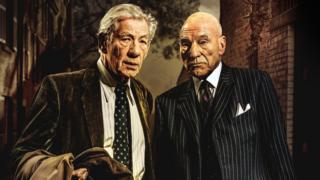 Image copyright Perou

Image caption Sir Ian McKellen and Sir Patrick Stewart play ageing writers who spend the night drinking
Sir Ian McKellen has revealed he tried to alter Harold Pinter's play No Man's Land to insert a crucial twist – a toilet break for his character.
Sir Ian and Sir Patrick Stewart play drinking partners in a new production.
Sir Ian told BBC Radio 4 Front Row: "My character never leaves the stage for two hours and he drinks an awful lot – and I tell you when you drink at this rate, you simply have to go and pee.
"But he's not put that in the play. We tried to put it in the play."
The actor added: "I'd say that was as close to an error as Harold Pinter ever got."
<
div id="bbccom_mpu_1_2_3″ class="bbccom_slot" mpu-ad" aria-hidden="true">