<figure class="media-landscape" has-caption full-width lead">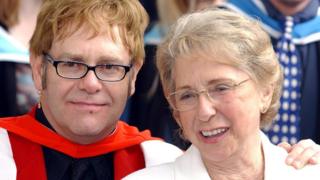 Image copyright PA

Image caption Elton John poses with his mother in 2002
Sir Elton John says he is "in shock" after the death of his mother, Sheila Farebrother, just months after their reconciliation.
"So sad to say that my mother passed away this morning," he said on his Facebook page, alongside a photo of them together.
"I only saw her last Monday and I am in shock. Travel safe, mum. Thank you for everything."
Sir Elton, who was born Reginald Dwight, was an only child.