Gymnast Simone Biles isn't the next Usain Bolt or Michael Phelps. According to the Olympic gold medalist herself, she's just the first Simone Biles.
Well, according to Aza Comics, Biles is also a superhero, and this new tribute to the Rio standout makes that perfectly clear: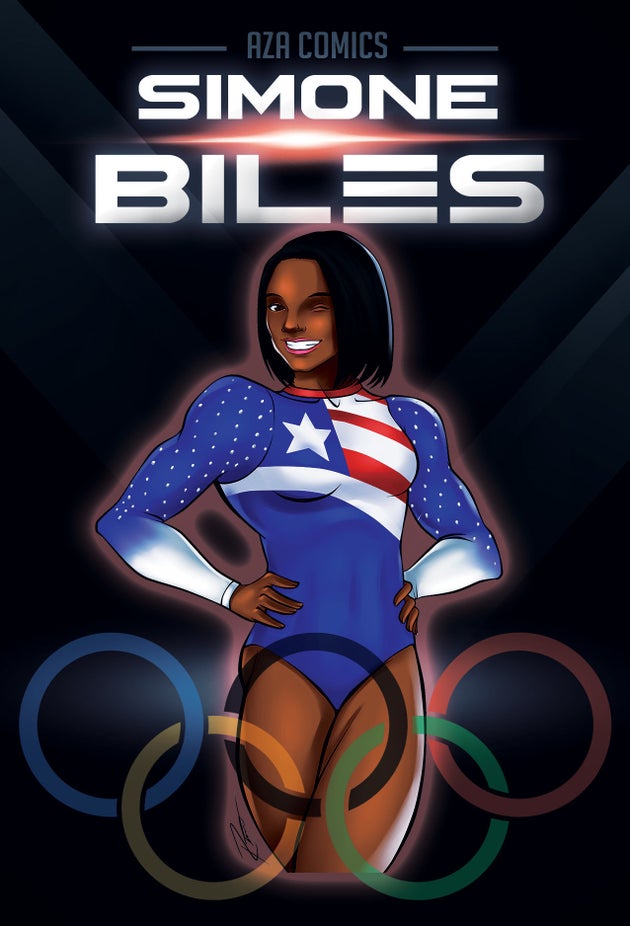 The tribute comes to us courtesy of
Aza Comics
creator
Jazmin Truesdale
, who has been following Biles since 2013.
Before Biles became known as the best gymnast of all time, before she took home the gold medal in the women's individual all-around in Rio, Truesdale and the rest of "gymternet" had been watching her dominate the floor, vault, bars and beam for several years.
Now that Biles is being compared to male athletes like Bolt and Phelps, Truesdale and illustrator Remero Colston decided to show the rest of the world what she really is: a superhero, no cape necessary.
The image above shows Biles with a subtle glow surrounding her, meant to show how the Olympian's body "activates" when she kicks into action. "Physically, no one in gymnastics has seen anyone like her," Truesdale explained to The Huffington Post. "The height that she gets and the velocity at which she does it … she's a freaking superhero."
Beyond her physical attributes, Truesdale says Biles' personality she's often described as bubbly and giggly is also pretty awesome.
"A few months ago [Biles] winked at 2008 Olympic gymnast Shawn Johnson, who was sitting in the audience, while performing her floor routine. Fans loved it but she got some flack for it and basically made the statement of, 'I'm going to be me, I don't care if I lose a tenth,'" Truesdale said. "I love that element of her personality. She competes with herself, not other people, and is unapologetic about who she is."
And that's what the characters of Aza Comics are all about. The company promotes multicultural superheroes who don't uphold sexist comic stereotypes."I want women and girls to own who they are, go for what they want in life, and not apologize for being great," Truesdale explained.
Truesdale ultimately believes that strength of character is the ultimate superpower. "Being willing to own your flaws and shortcomings and be willing to improve yourself everyday," she added.
Aza comics is currently preparing for the release of its first children's book, but Truesdale says she and Colston want to continue making tributes to Olympians. "We will definitely try to squeeze in more amazing athletes."
In the meantime, you can check Aza's amazing homage to Michelle Obama here.
<
div class="content-list-component" text">
You can go to Aza Comics' website to find different versions of the Simone Biles tribute that Truesdale and her team will be putting up. You can also follow Aza on Facebook and Twitter to see new illustrations and even make suggestions for future tributes.
For more Olympics coverage: