<figure class="media-landscape" has-caption full-width lead">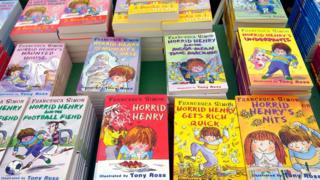 Image copyright Alamy

Image caption The Horrid Henry books have sold in their millions since 1994
Emmerdale actor Adam Thomas has banned his three-year-old son from watching Horrid Henry because he says Teddy has "literally turned into" the fictional character.
Henry is a naughty prankster who bullies his little brother and causes chaos wherever he goes. Henry is just, well, horrid.
But should parents be banishing him from their children's lives?
Author Francesca Simon has defended her creation, telling the BBC that in the end "he always obeys his parents".
Taking to Twitter to vent his frustration, Thomas asked: "Anyone else banned their kid from watching Horrid Henry or is it just us?"
<div id="bbccom_mpu_1_2_3″ class="bbccom_slot" mpu-ad" aria-hidden="true">