<figure class="media-landscape" no-caption full-width lead">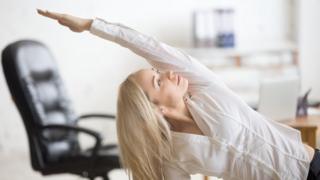 Image copyright Getty Images
The news this week that more than 20 million people in the UK are physically inactive has led to a lot of discussion over how to tackle the problem. But with no easy solution and rates of obesity rising fast has it come to the point that exercise should become part of our working day?
"Exercise in the office isn't a new idea. But it's such a clear win-win – in terms of health, morale and productivity," says Ryan Holmes, the CEO of HootSuite, a social media platform.
In a first-person article on Medium entitled, Why It's Time We Paid Employees to Exercise at Work, Holmes makes a passionate case for exercise becoming part of the working day and bosses paying for it.
His social media tech company has about 700 employees, and exercise before, during and after working hours is encouraged, in the small on-site gym.
"Yoga classes are packed before work, at lunch and after work. In the gym, volunteers from our company lead sweaty bootcamps and cross-training classes. Groups set out from our office for lunchtime runs and evening hikes. We have a hockey team and a road biking team and even a Quidditch team that does battle on broomsticks in the park."
<div id="bbccom_mpu_1_2_3″ class="bbccom_slot" mpu-ad" aria-hidden="true">