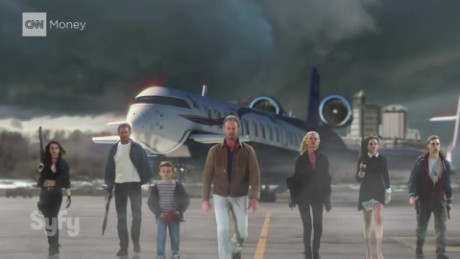 Los Angeles (CNN)Syfy caught lightning in a bottle with the first "Sharknado" in 2013. Now the latest installment "Sharknado: The 4th Awakens" proves that the network still has ample incentives to milk as much as it can out of the franchise, even as the returns on it diminish — and also shows just how hard it will be to kill this social-media-powered monster.
"The 4th Awakens" is, like its predecessors "Sharknado 2: The Second One" and "Sharknado 3: Oh Hell No," more than just a purposefully schlocky movie. It's an opportunity for synergy with the larger NBCUniversal family.
"It's not just about the ratings," said Chris Regina, Syfy's senior vice president of original co-productions. "It's about our influence and our presence in the pop-culture landscape."
<
ul class="cn" cn-list-hierarchical-xs cn–idx-4 cn-zoneadcontainer">
While the producers work in just enough references to "Star Wars" to justify the title, "The 4th Awakens" is also busy showcasing NBC talent, like "Today's" Al Roker and Natalie Morales, as well as MSNBC as a whole. (A certain other cable news network is identified, by contrast, as "ZNN.")
Syfy's multi-pronged approach to the movie, which premieres Sunday, includes a week's worth of related programming, a Sunday marathon of the three prior movies leading up to the premiere and a commercial-free preview of a new vampire series, "Van Helsing," immediately after the telecast.
It's a lot of effort for, and pressure on, a film series that could have already hit its peak.
The first "Sharknado" in 2013 took off unexpectedly thanks to strong gusts of social media, producing a tweet-storm that improbably made the title stand out.
"Sharknado 2: The Second One" attracted almost three times as many viewers with its first telecast — about 3.87 million people. But by "Sharknado 3," the novelty appeared to be cooling. The audience slipped to 2.81 million, per Nielsen data — markedly better than the average Syfy movie, but a sign "Sharknado" was likely slowing down.
<
div class="ad-slide–inactive" ad-slide js-ad-slide">