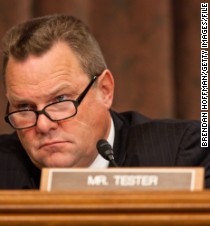 Washington (CNN)The head of Senate Democrats' campaign arm says he regrets questioning whether the nation is ready for a two-woman presidential ticket, as Hillary Clinton is poised to claim the party's nomination.
Sen. Jon Tester was
recorded
in an interview with WNYC's Todd Zwillich over the weekend responding to Clinton vice-presidential speculation and senators, saying he's a fan of Ohio Sen. Sherrod Brown and questioning whether Massachusetts Sen. Elizabeth Warren would be a good fit.
<
ul class="cn" cn-list-hierarchical-xs cn–idx-4 cn-zoneadcontainer">
"I don't know. Is the country ready for two women? I don't know," Tester responded.
The audio was posted online and circulated by a conservative super PAC dedicated to digging up dirt on Democrats.
Reached Tuesday, Tester, a Montana Democrat, said he did not stand by the comments.
"I shouldn't have said that and it doesn't reflect my values," Tester said in a statement provided by his office. "I have always believed that we need more women in leadership positions, not fewer."
His office also stressed that Tester has made recruiting women for office a focus in his position as chairman of the Democratic Senatorial Campaign Committee.
Before Tester walked them back, his comments stood in stark contrast to members of his party, who happily speculated about Clinton having a woman running mate the day after CNN and The Associated Press declared her the presumptive Democratic nominee, and the first woman to ever claim a major party's nomination.
Asked about Tester's remarks, Senate Minority Leader Harry Reid took the opposite view.
"We've had two men representing the president and vice president for centuries. My personal feeling is I don't see why you couldn't have two women, whoever they might be," Reid told reporters on the Hill.
Endorsing Clinton for the first time, House Minority Leader Nancy Pelosi on Tuesday also said Clinton's running mate could be a woman.
"We've had two men over and over again for hundreds of years," she said on ABC's "Good Morning America." "I think that two women, whoever they may be, that would be fabulous as well."
Pelosi's California is one of six states voting Tuesday in the final major primary day.
While Warren's office did not respond to a request for comment about the speculation over her as Clinton's running mate and two women on the ticket in general, her colleague, New York Sen. Kirsten Gillibrand, endorsed the idea.
"Sen. Gillibrand thinks two women on the ticket clearly would be a fantastic idea," her spokesman, Marc Brumer, told CNN.
Read more: http://www.cnn.com/2016/06/07/politics/jon-tester-women-president-ticket-hillary-clinton/index.html