There was entertainment for scholars and humble players alike as Stratford-upon-Avon marked the 400th anniversary of William Shakespeare, its most famous son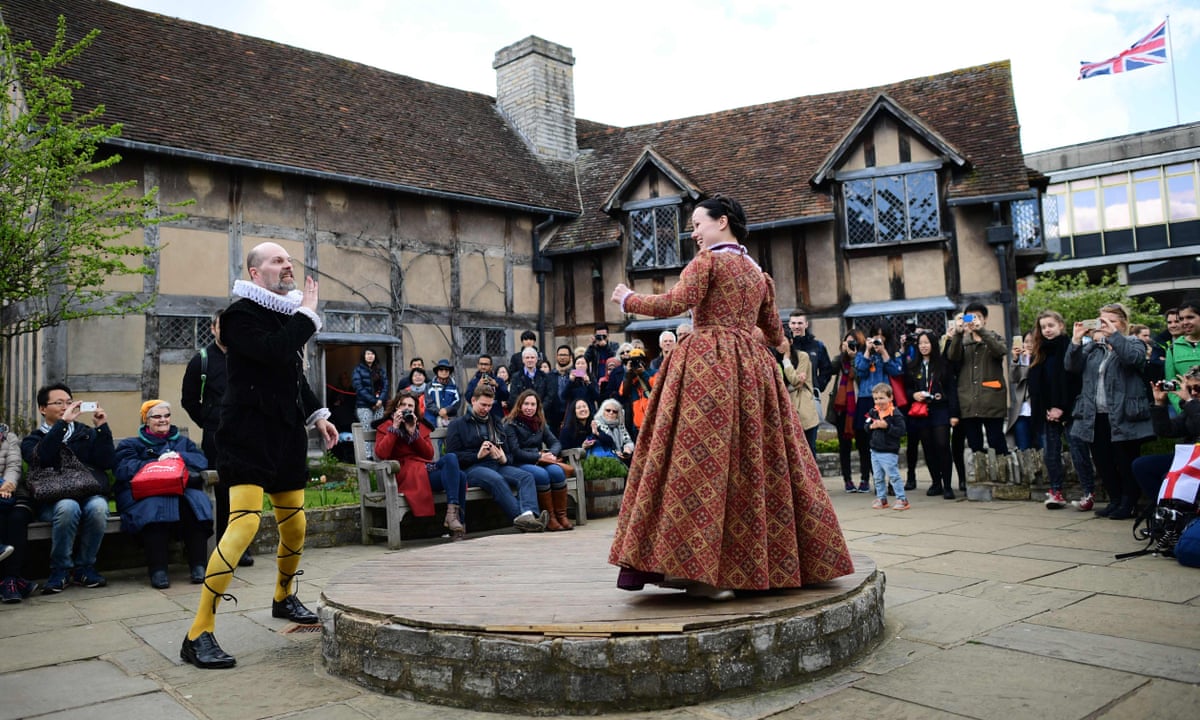 By lunchtime in the graveyard of Holy Trinity Church, Stratford-upon-Avon, the revels that marked Shakespeares 400th anniversary parade had pretty much ended. Off-duty Pucks and Hamlets from local schools were playing hide and seek among the gravestones.
The funeral bier that had been pushed through the streets by boys wearing tragedy and comedy masks from Shakespeares alma mater, King Edward VI School, was parked up on the road. The New Orleans funeral jazz band who had been flown in for the occasion had downed trombones and were enjoying observing the living English costume drama: the inevitable aldermen and sheriffs and morris men and guildsmen, blinged up, taking selfies.
Many of the 10,000-strong crowd were still filing past Shakespeares monument in the church, some still wearing unnerving lifelike Shakespeare masks, clutching sprigs of rosemary (for remembrance). I was watching a Korean TV crew setting up cameras on a tombstone to ask the inevitable question of a couple who had led the parade as Master and Mistress Shakespeare, William and Anne Hathaway themselves: There are some people in Korea who like Shakespeare poems. And some people in Korea who like Shakespeare plays. But can you tell me, today, what is the point?
Anne Hathaway rises to the occasion. People ask what is special about Shakespeare? Well, he got to the core of humanity, he knew peoples failings, their joys, their tragedies, their emotions. His friend Ben Jonson said that he drank little and observed much.
On that basis Shakespeare would no doubt have been in his element at this very English celebration, dovetailed with St Georges Day. In a sexed-up version of the annual pageant, the burghers of Stratford had honoured their most famous son, and eternal cash machine, with a suitable mix of incongruity: mirth and dirge.
There was plenty to entertain scholars and groundlings alike. Alongside a celebratory programme at the Royal Shakespeare Theatre featuring Helen Mirren, Benedict Cumberbatch and Simon Russell Beale, the town had activities to suit allcomers. A demonstration of how to create bruises, cuts and scars with make-up! competed for attention with learn the Bergomask dance from A Midsummer Nights Dream.
Samuel Johnson once argued that Shakespeares fatal flaw was his addiction to puns. (A quibble, poor and barren as it is, gave him such delight, that he was content to purchase it, by the sacrifice of reason, propriety and truth.) Stratford made this perceived weakness a strength. As the symbolic quill was removed from Shakespeares birthplace by the schools head boy and carried through the streets, it passed a Paxton & Whitfield cheese shop, which asked customers the vexed question To brie or not to brie?, while a board outside the Lamplighter pub announced: Shakespeare used to drink here. But now hes bard.
You know for certain, in this odd week of death and anniversary and memorial, that Shakespeare would have much preferred <a href="http://www.theguardian.com/music/video/2016/apr/22/spike-lee-hosts-brooklyn-street-party-to-honour-prince-video" title="" data-link-name="in" body link" data-component="in-body-link" class="u-underline">Spike Lees spontaneous street party for Prince to the pomp and circumstance and dutiful home movies rolled out for the Queen. This celebration amplified in various venues across the country fell somewhere in between.
I watched the local dignitaries file out of the chapel in search of characters. Among the lord lieutenants there were some authentic dresser-uppers. Gordon and Biddy Brown were in well-worn Elizabethan, up from Hampshire representing the Lymington Players.
Weve been in theatre for 40 years, Biddy explains, adjusting her bodice. We met as two down and outs in Major Barbara. We have been down and out ever since.
Had they come today as particular characters?
Someone said I looked like Thomas Cromwell, Gordon says. Hes not sure thats a compliment.
In the graveyard, Master and Mistress Shakespeare, John and Monica Evans, are still fielding questions from Korea. They have been filling these headline roles in the pageant for 20 years, but this 400th celebration will likely see John hang up his codpiece. It was a happy accident to begin with. Monica, who worked in theatre, was being fitted for Elizabeth I two decades ago when she heard that the designated Will couldnt fit his costume. She wondered if her husband might have a go. He has never looked back.
We try to put our heart into it as much as we can, John says, from behind his uncanny goatee. But I think its probably time we gave it up now.
The bard bows out! says Monica, with a flourish.
Nearby Gerald French, bass drum player for the Tulane funeral jazz band, is watching on. What does he make of all this Englishness?
Well, he says, Weve done all kinds of funerals but this is one of the biggest.
Is he a Shakespeare fan?
I wouldnt say a fan. Some of it I understand, some of it I dont.
Favourite play?
Hey, he says, Im in a funeral jazz band. It has to be Hamlet, right?
Dr Paul Edmondson, head of research at the Shakespeare Birthplace Trust, had the idea to bring the funeral band over from New Orleans. He is behind the project to open yet another museum in Stratford, Shakespeares New Place, on the site of his last home, which has been excavated and recreated to be unveiled in July. People will go there and have Shakespeares creativity evoked for them on the site, Dr Edmondson suggests.
Or, as the advance publicity advertises on billboards around the site: Meet the man behind the name: the glove-makers son who hit the big time!
Read more: http://www.theguardian.com/culture/2016/apr/24/shakespeare-400-anniversary-street-festival-stratford-upon-avon