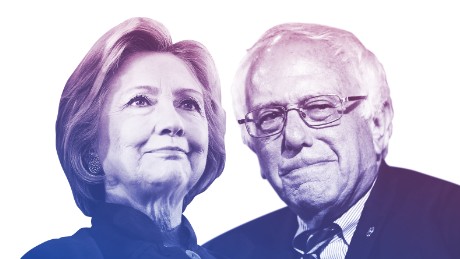 (CNN)Fueled by grievances over the party's treatment of Bernie Sanders and doubts over Hillary Clinton's progressive credentials, tens of thousands of protesters are putting a fragile post-primary detente to the test on the eve of the Democratic National Convention in Philadelphia.
Pro-Sanders groups chanted "Debbie is done" during demonstrations Sunday, celebrating Democratic National Committee chairwoman Debbie Wasserman Schultz's
announcement
she will step down after the convention. But even as they cheered news of her long lobbied-for departure, the broad coalition of protesters here pledged to keep up the heat on the Democratic establishment.
<
ul class="cn" cn-list-hierarchical-xs cn–idx-4 cn-zoneadcontainer">
Unlike Cleveland, where scattershot demonstrations routinely dissolved among infighting and an overwhelming police presence, the protesters descending on the DNC have a more coherent slate of demands and, with a new Wikileaks release of documents that seems to show
Democratic officials discussing ways to undermine Sanders' bid
, freshly ignited anger at the party's handling of the nominating contest.
Now, with high heat already in the region and heavy storms on the horizon, Philadelphia is preparing for a more contentious series of showdowns than many expected even a few weeks ago. They begin on Sunday, with pro-Sanders rallies scheduled in FDR Park and Thomas Paine Plaza.
Here are five things to watch for:
1. A better organized left this time around
The promise to
"#see you in Philly"
has doubled as a rallying cry and threat to the Democratic establishment on progressive social media as activists seek to build support — and numbers — for planned protests both inside the convention and on the streets surrounding the Wells Fargo Center, where Hillary Clinton will accept the party's nomination on Thursday night.
Democracy Spring, a nonpartisan activist coalition, is asking Clinton and top party officials to push reforms that will, in the words of the group's director, Kai Newkirk, "make this the last corrupt, billionaire-dominated voter suppression-marred election in our country."
Their demands center on a "package of comprehensive democracy reforms" that would beef up voting rights protections, push for publicly funded elections, and seek to overturn Citizens United within the first 100 days of a new Democratic administration.
Clinton last week
promised
the Citizens United amendment would come during her first month in office, but Democracy Spring and aligned groups view the pledge with skepticism and are asking for the immediate abolition of the party's controversial superdelegate system as a down payment.
Many activists —
some willing to be arrested
— have mapped out a week of "direct actions" aimed at gumming up the convention's works with protests that could include blocking off thoroughfares used to transport delegates into and out of the arena. Those plans will go ahead despite a Saturday night compromise between Clinton and Sanders that calls for the creation of a "unity commission" to review and potentially restructure the party's nominating and delegate selection process.
"We welcome this concession — as well as Debbie Wasserman Schultz's decision to step down as party chair — but it is not enough to justify relenting in the struggle to win fundamental democracy reform both within and outside the Party," Newkirk told CNN Sunday. "We will begin mass civil disobedience to bring our demand into the streets and the halls of the convention tomorrow."
2. Sanders supporters with a bone to pick
For much of the Sanders hardcore, a small but vocal group that will not vote for Clinton under any circumstances, the real enemy has always been the DNC. Philadelphia will give them an opportunity to rage against a party apparatus that they regard as actively keeping reformers like Sanders out of power.
The details revealed in a trove of hacked emails published this week by Wikileaks will only embolden and, to many, affirm their suspicions.
"We believe the masses really do want Bernie Sanders," Occupy DNC organizer Laurie Cestnick told CNN before the DNC emails were released by Wikileaks.
The rising tension was on display Saturday during a Clinton campaign event in Miami when a protester yelled "DNC leaks" and was escorted out of the venue after the candidate thanked chairwoman Debbie Wasserman Schultz for her work.
A day later, the chairwoman had announced she would step down after the convention.
3. Green Party presidential candidate Jill Stein
Stein's campaign will be out in force seeking to pick up the support of disgruntled Sanders supporters. From Sunday through Thursday, they will spend 14-hour days in FDR Park, Philadelphia's designated protest hub, as part of the "Power Rally for Jill Stein for President." Their gatherings, according to
documents made public by the city
, will feature music, speakers and a massive tent, likely for registering potential Democratic party defectors.
Meanwhile, Poor People's Economic Human Rights Campaign national organizer Cheri Honkala will lead a march from City Hall to FDR Park on Monday after the American Civil Liberties Union brought a lawsuit against the city on the group's behalf. Honkala was Stein's running mate in 2012 and had seen her initial permit application rejected.
As a result of the compromise, ACLU of Pennsylvania deputy legal director Mary Catherine Roper told CNN the city has backed off a ban on "rush-hour" marches, which would have effectively shut down moving protests from 3 p.m. to 6 p.m.
4. Tension with police and city officials
"The Philadelphia police have both a policy and a history of being really hands off with protests," Roper said.
The tension, she added, was more likely to come during Black Lives Matter-related events, due in large part to "a really tense relationship between the police and the city's African-American community because of a history of over-policing and discriminatory policing."
The city, which has not revealed how many of its 6,200 officers will be assigned to the convention, plans to bring in about 160 "mutual aid" personnel from neighboring departments. As a convention host, Philadelphia was awarded more than $43 million federal dollars to cover security expenses.
5. A gigantic "joint"
Trying to spark up some excitement over their push to end pot prohibition, the Philadelphia chapter of the National Organization for the Reform of Marijuana Laws has revealed plans to march a 51-foot "joint" from City Hall to the Wells Fargo Center.
The massive inflatable tube has appeared before in New York City and Washington.
Read more: http://www.cnn.com/2016/07/24/politics/democratic-convention-protests-philadelphia/index.html